Hey Guys,
Since I have lately been do a lot of benching on my dram to gain more and more efficiency. I realized how big the difference.between stock/xmp settings vs completely manual tweaked Dram, are.
What works and what doen't , So I thought It might be fun to share your (best/current) memory efficiency score .
First I looked. At some easy tools that quickly gain access to the.current dram settings and also measure / see improvement as fast and easy as possible. I used several Tools:
1. Asus MemtweakIt: this gives an immediately overview off primary, secondary, tertiary and some times also rtl and iol (round-trip latency and I latency) and a bunch of miscellaneous stuff.
on top of the subsequent timings, MemtweakIt also calculates an efficiency score. It not completely clear how this value is calculated, but it certainly give a general idea of how your changed settings alter the outcome.
2. AIDA64, a great tool with man many options and tools -they have 30 day free trial version: The latest Stable version is that what we are going to use: Version: 5.20.3400 stable (Mar 24, 2015) Download:
here
But I recommend you to buying a licence this will certainly be worth while
3. In AIDA64 under Tools, select and run Aida CacheMem test. This takes a few seconds (depending on sysyem/platform).
4. Please enclose on the same screenshot, Your MemTweakIt Score (or any others brands similar program showing timings and sub timings) and also CPU-Z main tab and CPU-Z memory tab (SPD tab would also be appreciated same goed for the mainboard tab)
It returns read, write and copy speed and also a latency number (in nanoseconds).
This is what the AIDA64 CacheMem Tool saved File looks like:
Please specify:
CPU:
MOTHERBOARD
DRAM TYPE : DDR, DDR, DDR3, DD4
DRAM manufacturer
Dram IC used: if unknown, state unknown
Dram Size Total
number of modules
XMP profile
Here is mine to start of:
CPU: i7 4798K, Mobo: Z97 Maximus VII Impact.
Dram: GSkill Trident X F3-2800C11-GTXD, dual kit= 2 x 4gb DDR3, xmp:2800,11,14,14,31,2T
Overclocked (down clocked in this case) 2666 cl9-12-11-26-1T . CPU @4800 , Cache 4000MHz
AIDA64: Read 41083 MB/s - Write 41840 MB/s - Copy 39682 MB/s, Latency: 36,9ns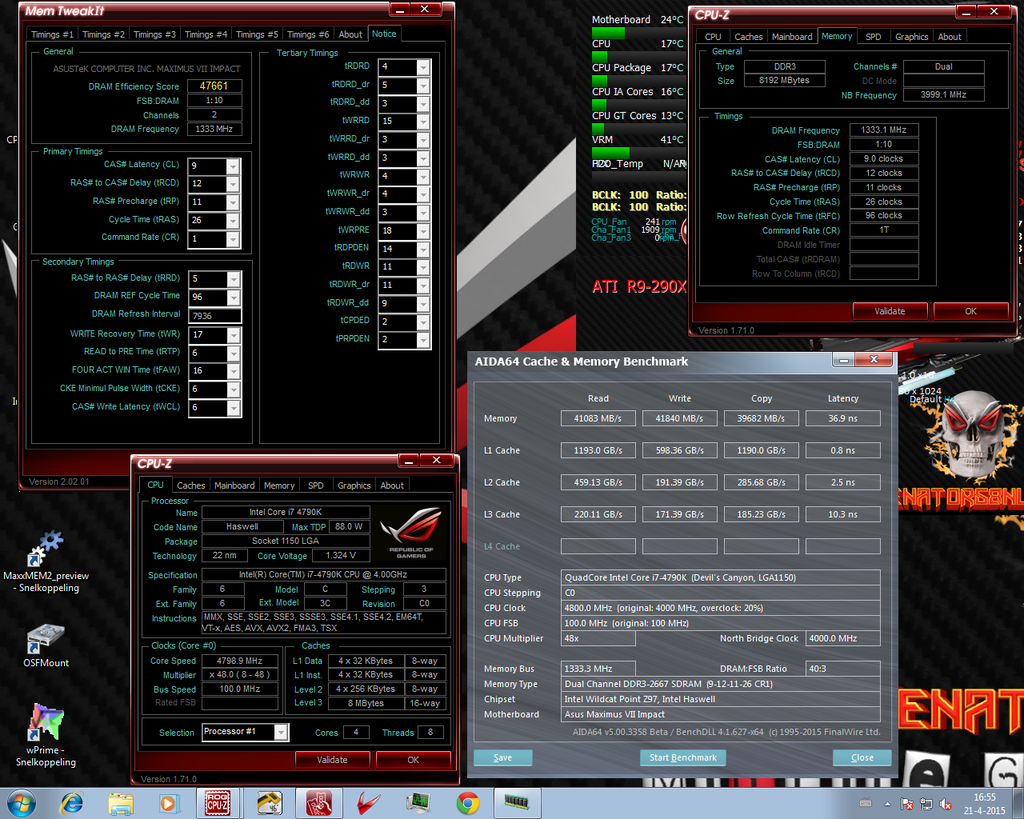 Also A Maxxmem2 screenshot is good indicator:
4790K@5100MHz, Cache@4800,vDimm@1,925, Maxxmem2 reed speed: 28526. MaxxMem2 marks: 2455,4
So put Up your current or best