MSI Z170A XPOWER GAMING TITANIUM EDITION Motherboard Review
MSI is a world leading brand based in Taiwan, it designs, develops and manufactures computer hardware such as motherboards, graphics cards, All-In-One PCs, laptops etc.
Price at time of review:
£218.99 at
Overclockers.co.uk
The Z170 platform was released earlier this year which included support for the latest DDR4 memory, this is the latest motherboard from MSI that supports the Intel Skylake chipset and as this is an XPOWER branded motherboard it has many features and has been designed for high end gamers and extreme overclockers.
Specifications from the MSI website
Supports 6th Gen Intel® Core™ / Pentium® / Celeron® processors for LGA 1151 socket
Supports DDR4-3600+(OC) Memory
OC DASHBOARD: Experience easier on-the-fly overclocking under the most extreme condition.
DDR4 Boost: Give your DDR4 memory a performance boost
USB 3.1 Gen2 2X FASTER: USB 3.1 Gen2 offers performance twice as fast as a regular USB 3.0 connection
Twin Turbo M.2 64Gb/s + Turbo U.2 ready + USB 3.1 Gen2 Type-A + SATA 6Gb/s
GAMING LAN with LAN Protect, powered by Intel®: The best online gaming experience with lowest latency
Audio Boost 3: Reward your ears with studio grade sound quality
Nahimic Audio Enhancer: Immersive sound quality that pushes the limits of reality
Game Boost: This one goes up to eleven; 8 levels of easy overclocking
GAMING Hotkey: Assign macros, launch your favorite games or do real-time overclocking using a single button
Designed for overclocking: with OC Essentials and OC Engine 2
XSplit Gamecaster v2.5: 1 year free premium license to show off your skills and achievements to the world
SteelSeries Certified: Optimized for SteelSeries gaming gear
Military Class 5: The latest evolution in high quality components featuring the brand new Titanium Chokes
MULTI-GPU with Steel Armor: Steel Armor PCI-E slots. Supports NVIDIA SLI™ & AMD Crossfire™
Click BIOS 5: Award-winning brand new Click BIOS 5 with high resolution scalable font
BIOS Flashback+: Easy BIOS recovery without the need of a CPU, memory and VGA card
GAMING CERTIFIED: 24-hour on- and offline game testing by eSports players for the best gaming experience
Packaging and contents
The Z170A XPOWER comes packaged in a silver box with a picture of the board on the front and in the bottom left it shows that this is from the Enthusiast Gaming range of MSI motherboards.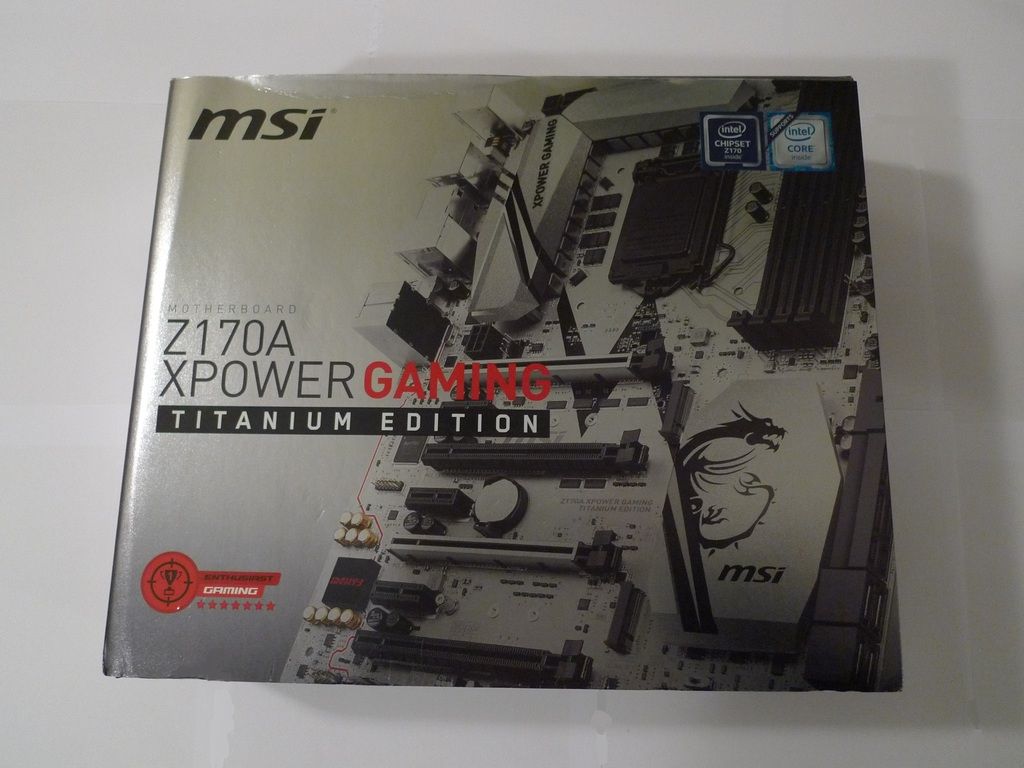 Opening the lid reveals the motherboard itself, inside the flap it displays the main features present and the rear of the box has more information and specifications.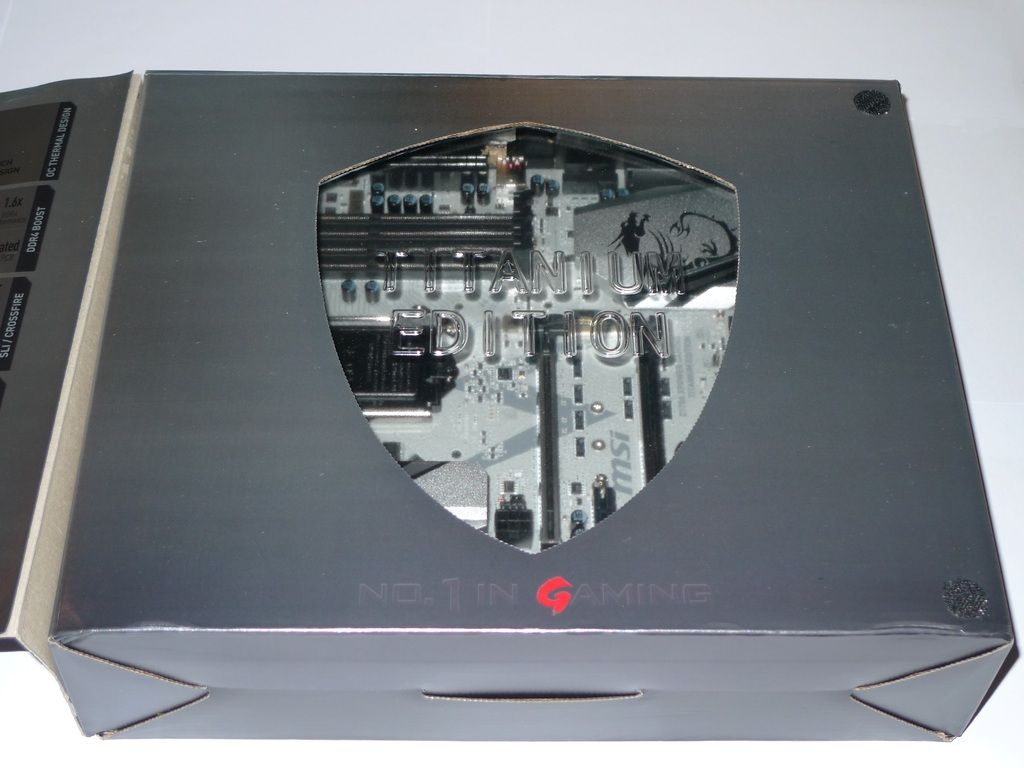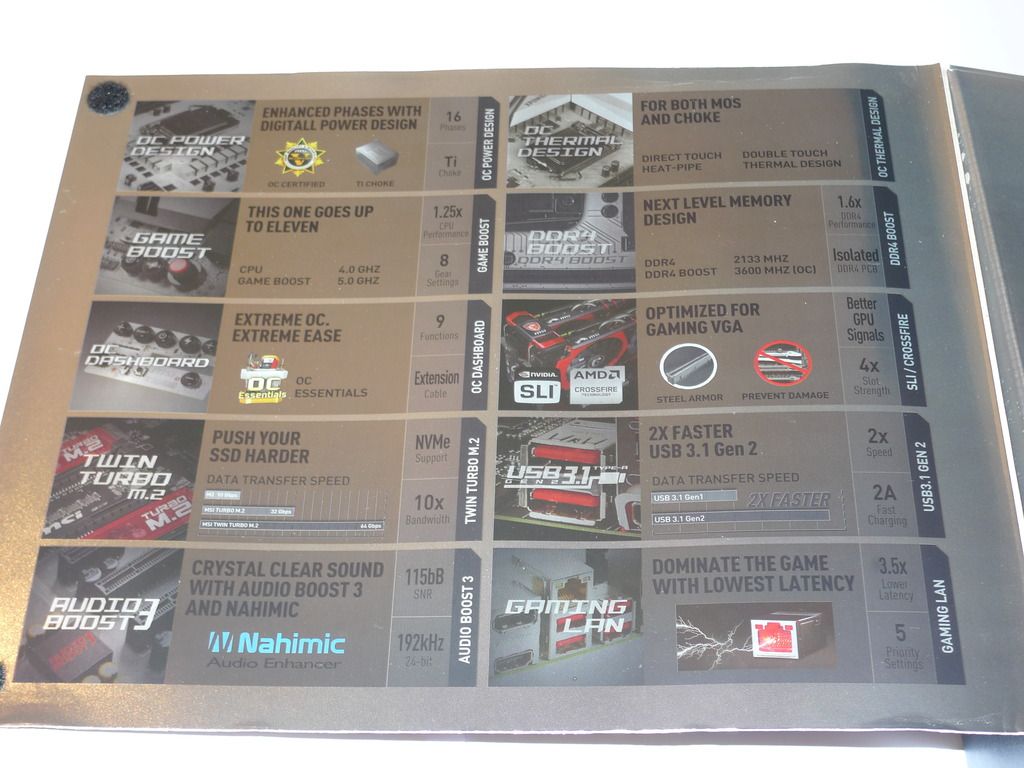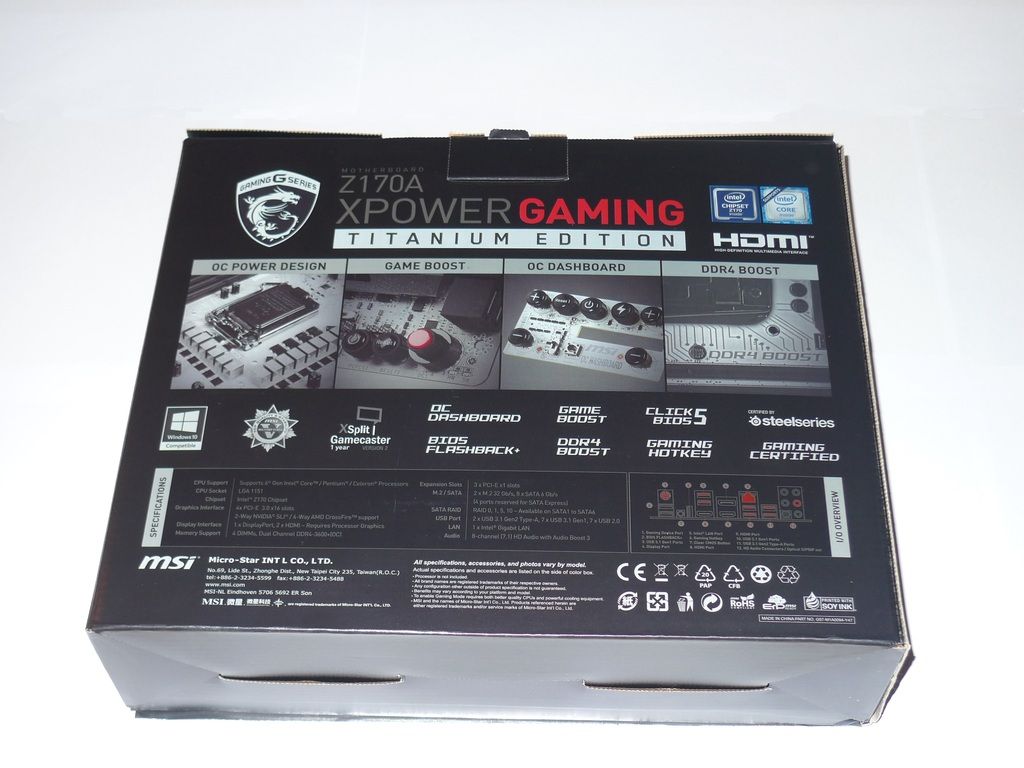 The XPOWER comes bundled with an User guide, a Quick guide, Drivers and utilities disk, six SATA cables, I/O shield, an OC dashboard and cable, SLI connector, V-check cables, stickers, a cpu installation tool, a poster and a door hanger.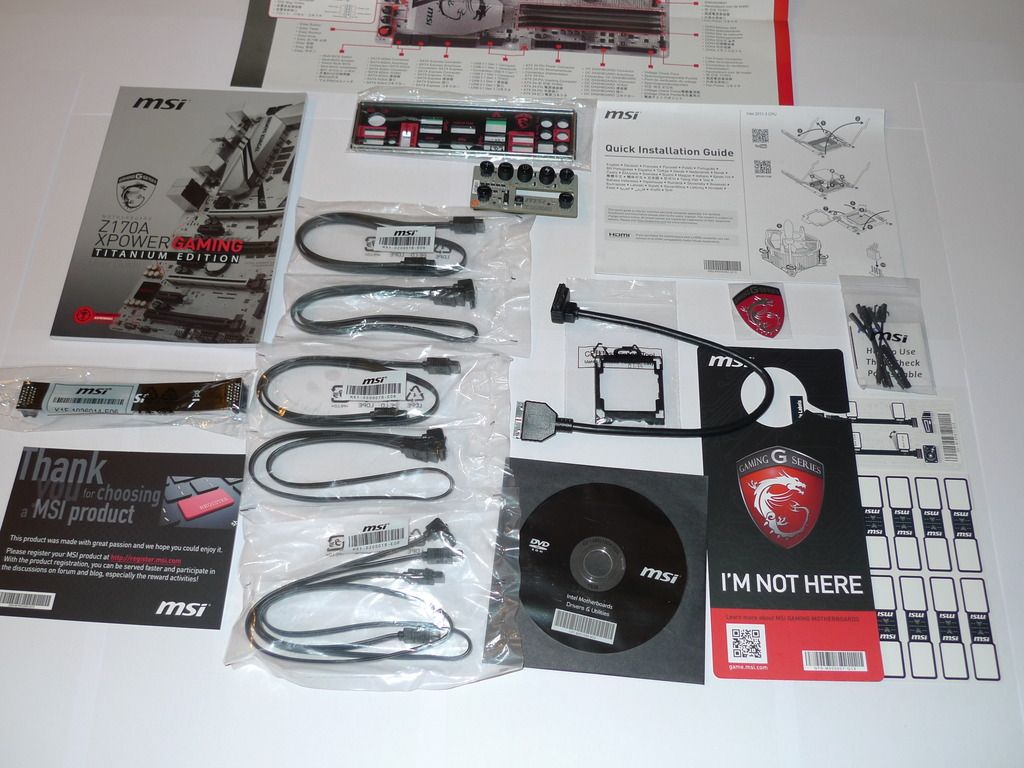 Motherboard layout and features
The first thing that strikes you is the unique silver design on the pcb which has been influenced by MSI's use of titanium chokes. The black and silver theme looks really stunning.
The XPOWER GAMING and Dragon logo on the heatsinks are very nice.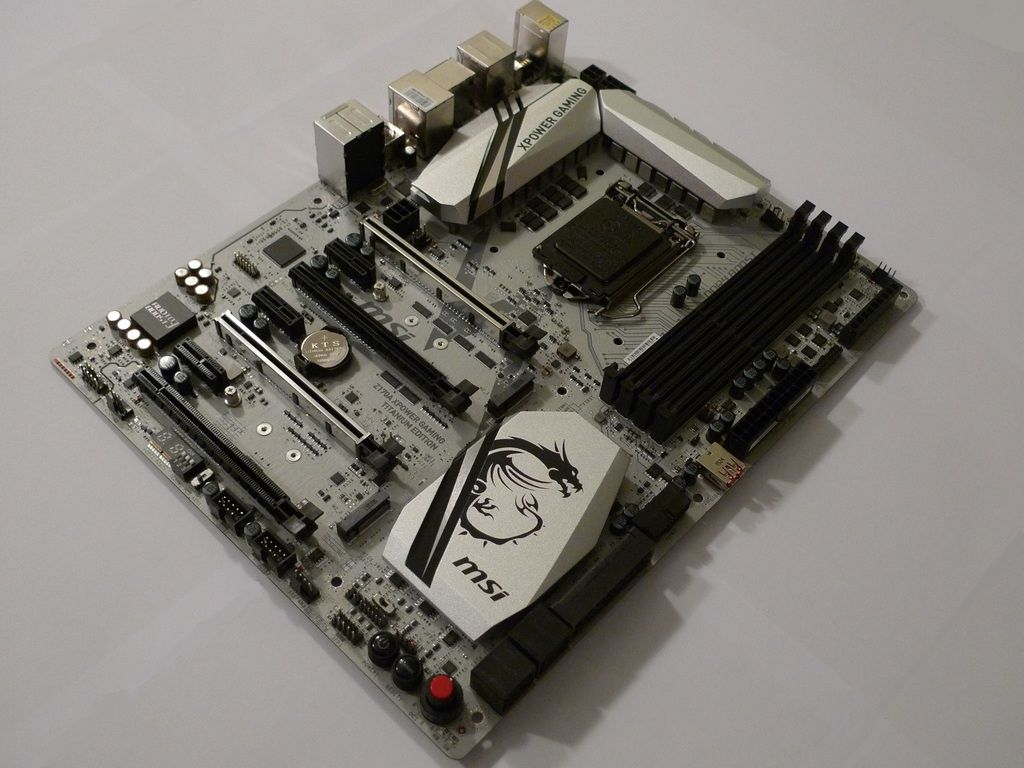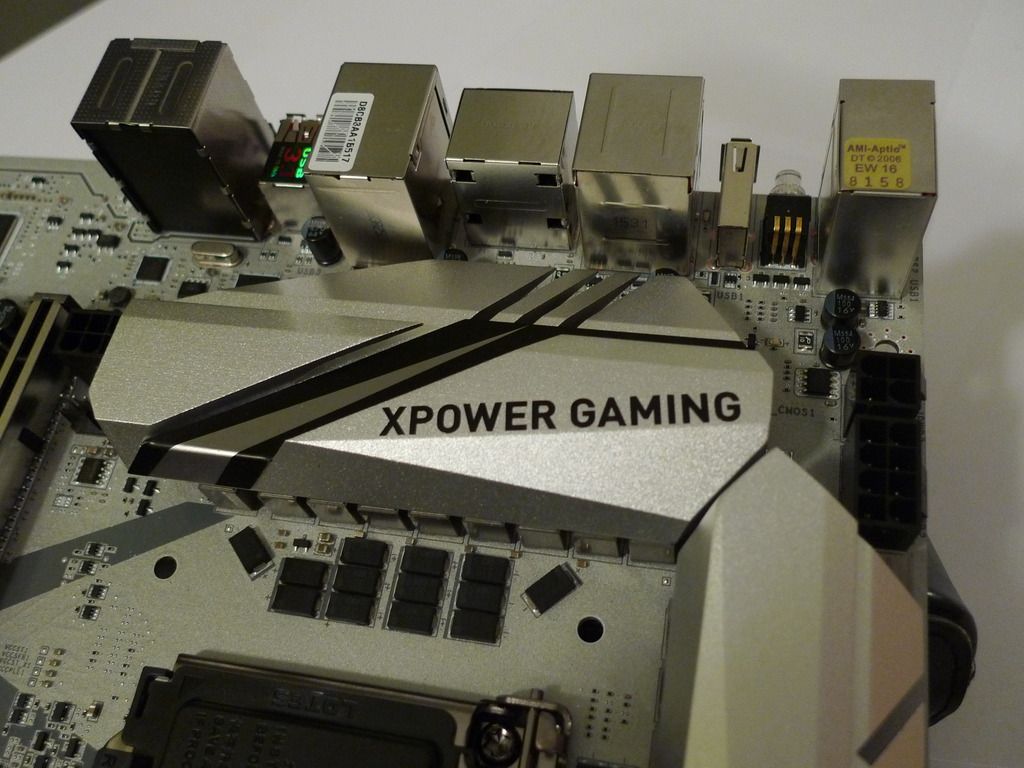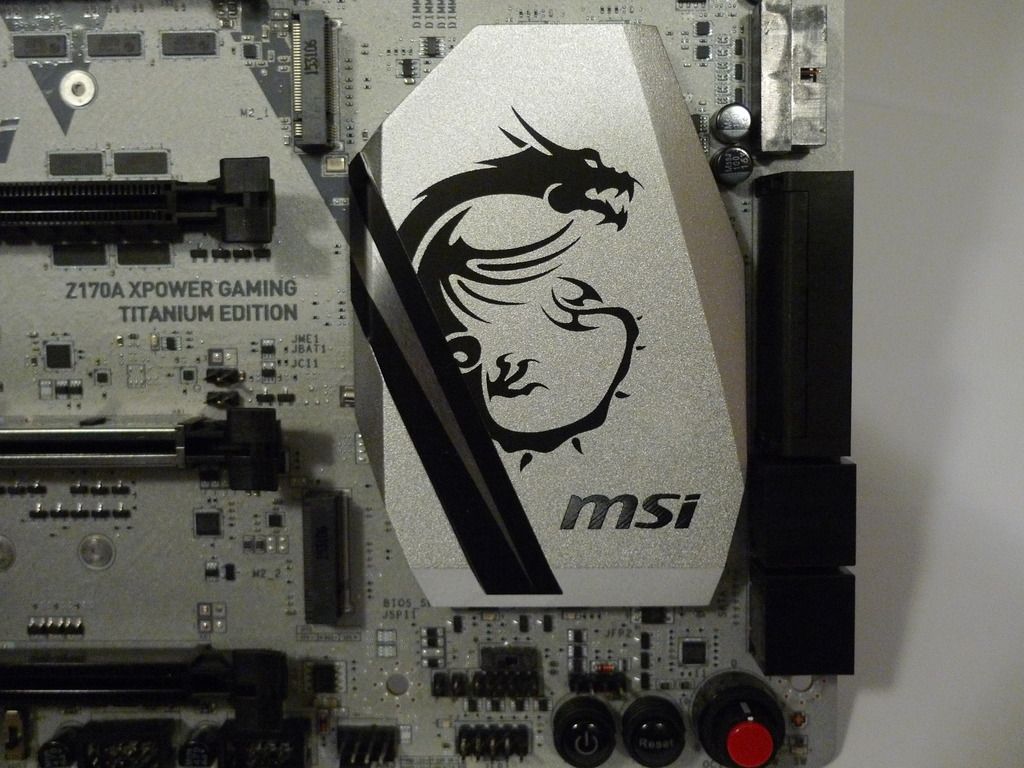 There is plenty of space around the socket so you can fit any cooling solution you want.
Having this much space also makes it easier to insulate the motherboard for use with LN2 or other extreme cooling solutions especially with the low profile capacitors.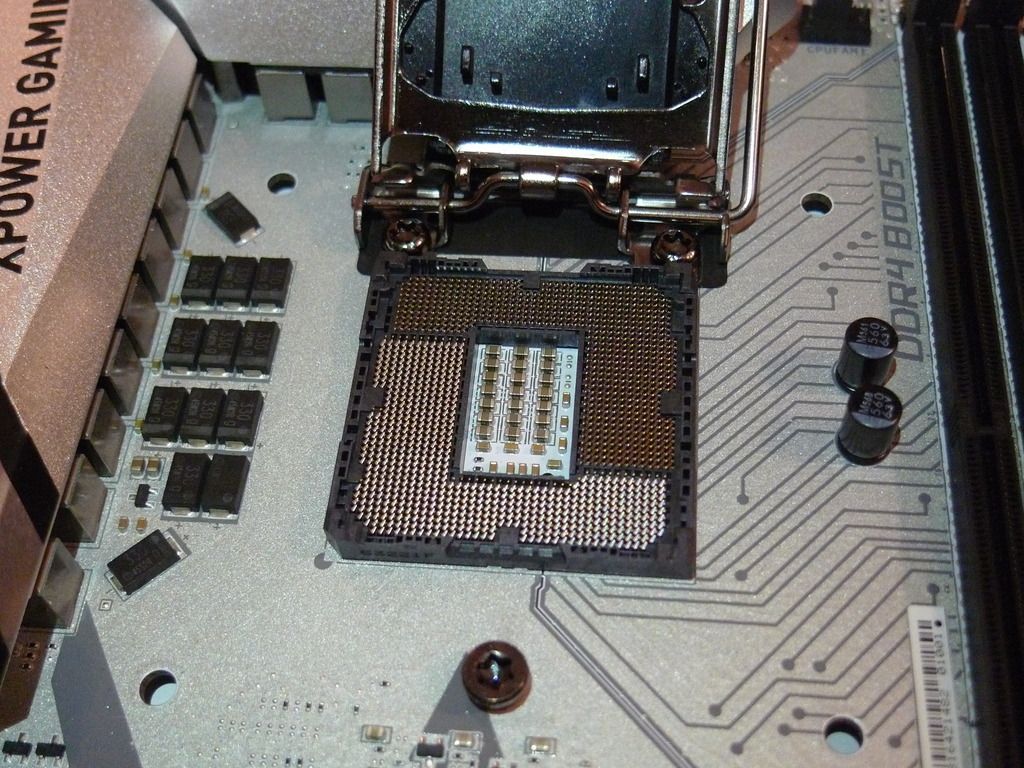 The Z170A XPOWER has a sixteen phase power design. Titanium Choke uses a Titanium core that has better ability in thermal and higher temperature tolerance. This allows the Titanium Choke to run at a 220 degree Celsius high temperature, have a 40% higher current capacity, a 30% improvement in power efficiency and better overclocking stability. The four black DIMM slots support up to 64Gb of DDR4 memory. By fully isolating the memory circuitry from other components, DDR4 Boost ensures the memory signal to stay pure for maximum performance and stability.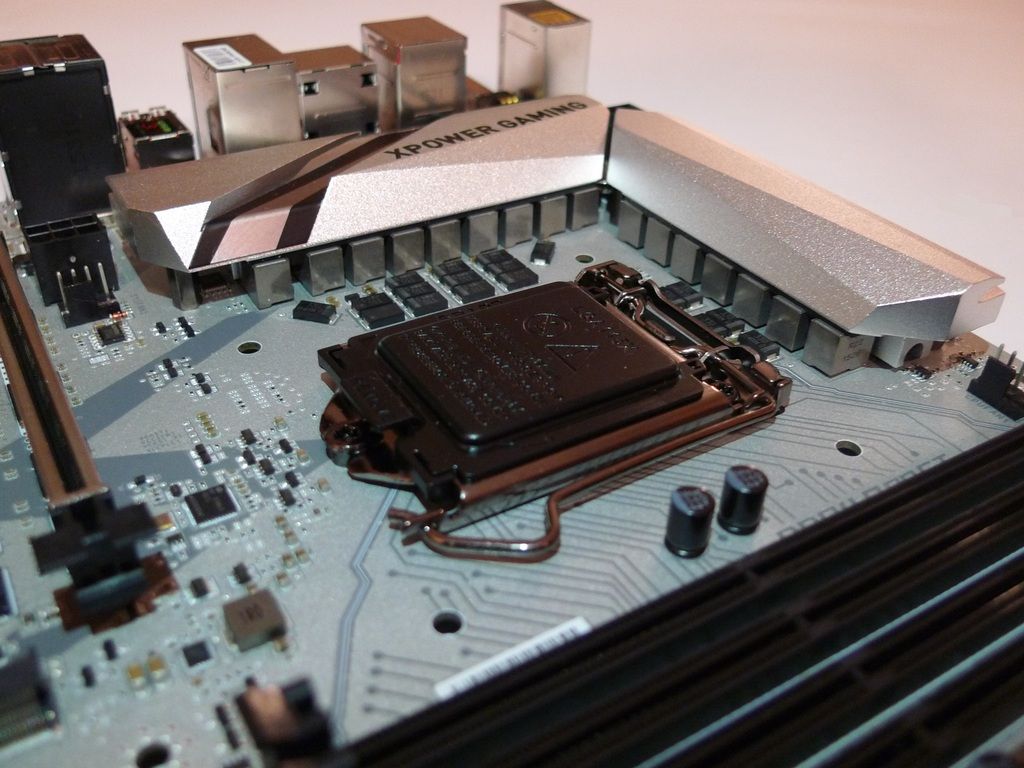 Plenty of power can be fed through an 8-pin and an additional 4-pin CPU connector.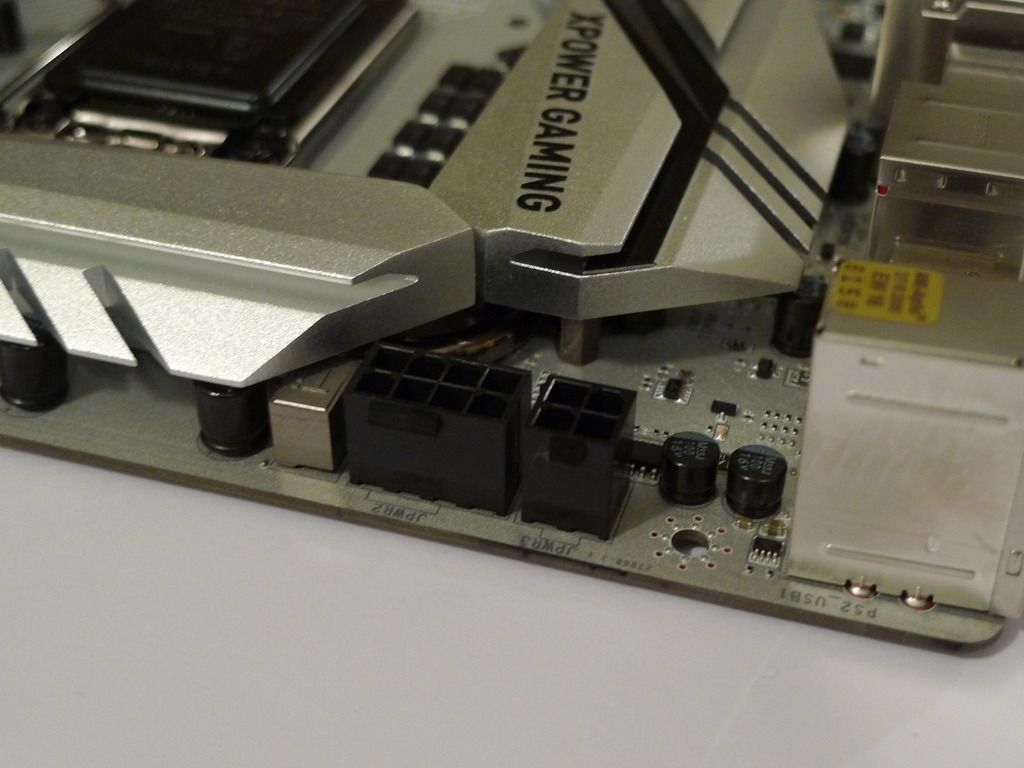 The board has four evenly placed PCIe 3.0 x16 slots that support x16/0/0/x4, x8/0/x8/x4 or x8/x4/x4/x4 modes and three PCIe 3.0 x1 slots.
It also has an additional 6-pin connector to supply extra PCI-E power.
The first and third x16 slots feature reinforced steel armour shields to support heavy graphics cards. Below these slots we have 2x M.2 ports, both of these can run at 32Gb/s and support RAID 0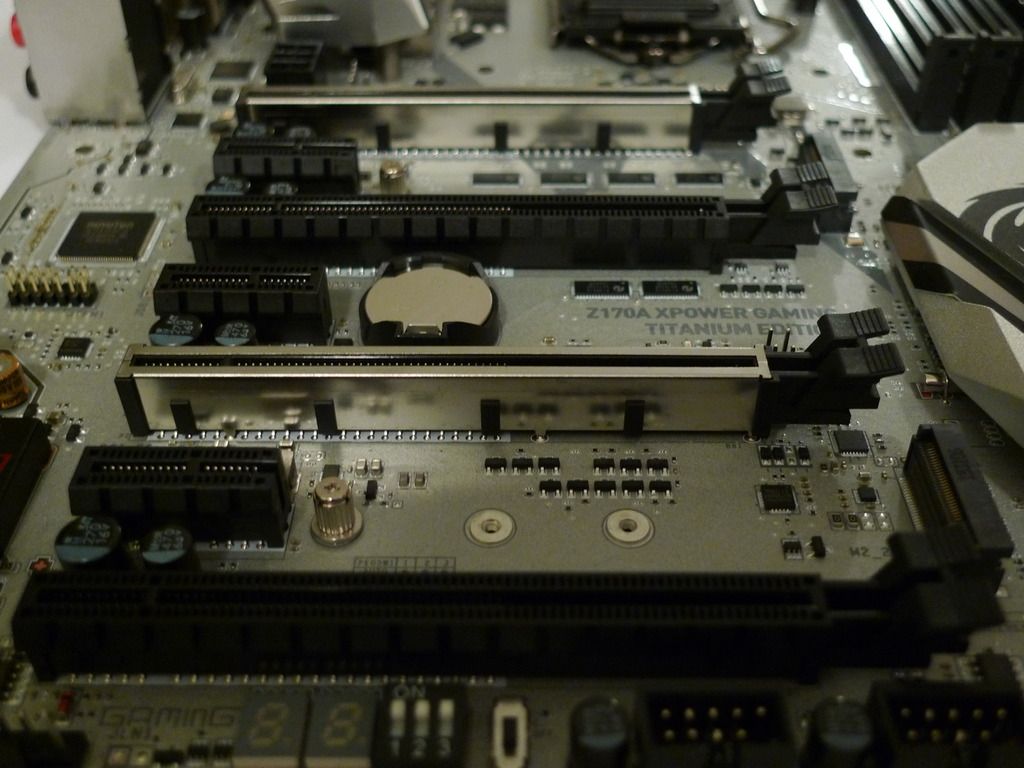 The audio section is isolated from the rest of the board which is illuminated in red when the power is on.
With Audio Boost 3, powered by Nahimic Sound Technology, it delivers the highest sound quality through the use of premium quality audio components. That way, you can enjoy breathtaking, crystal clear sound and music through 8-channel HD Audio or high impendence headphones and truly dominate the game.
The back panel connectors consist of
1 x PS/2 port
3 x USB 2.0 ports
1 x Clear CMOS button
2 x HDMI 2.0 ports
1 x Display Port
2 x USB 3.1 Gen2 ports
4 x USB 3.1 Gen1 ports
1 x LAN (RJ45) port
1 x Optical S/PDIF OUT connector
5 x OFC audio jacks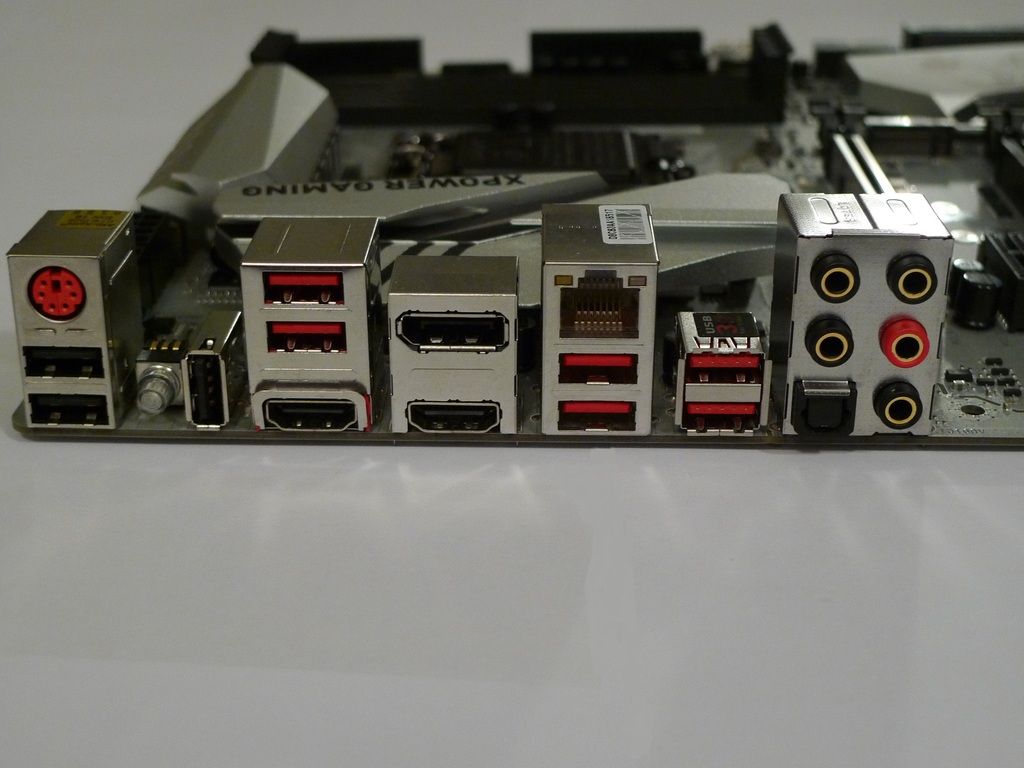 USB 3.1 allows for speeds up to 10 Gbps, doubling the speed compared to USB 3.0 and 20x faster than legacy USB 2.0.
USB 3.1 is even faster than SATA III Transferring your favorite games, music and movies over USB has never been faster.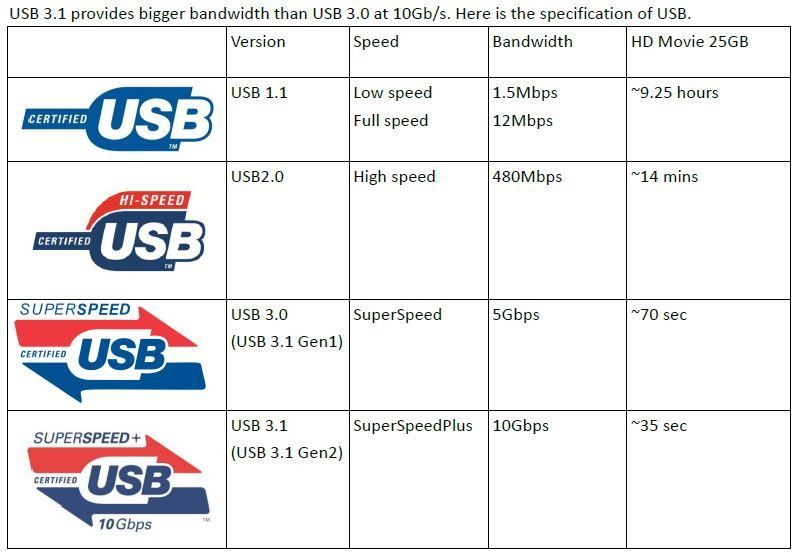 The Z170A XPOWER has 8 x SATA 6Gb/s ports and 2 x SATAe ports.
To the right of these we have a USB 3.0 header for the front panel and a direct USB port. Direct USB allows for faster and more convenient ways of saving scores, flashing the BIOS and installing drivers & software when using an open test bed.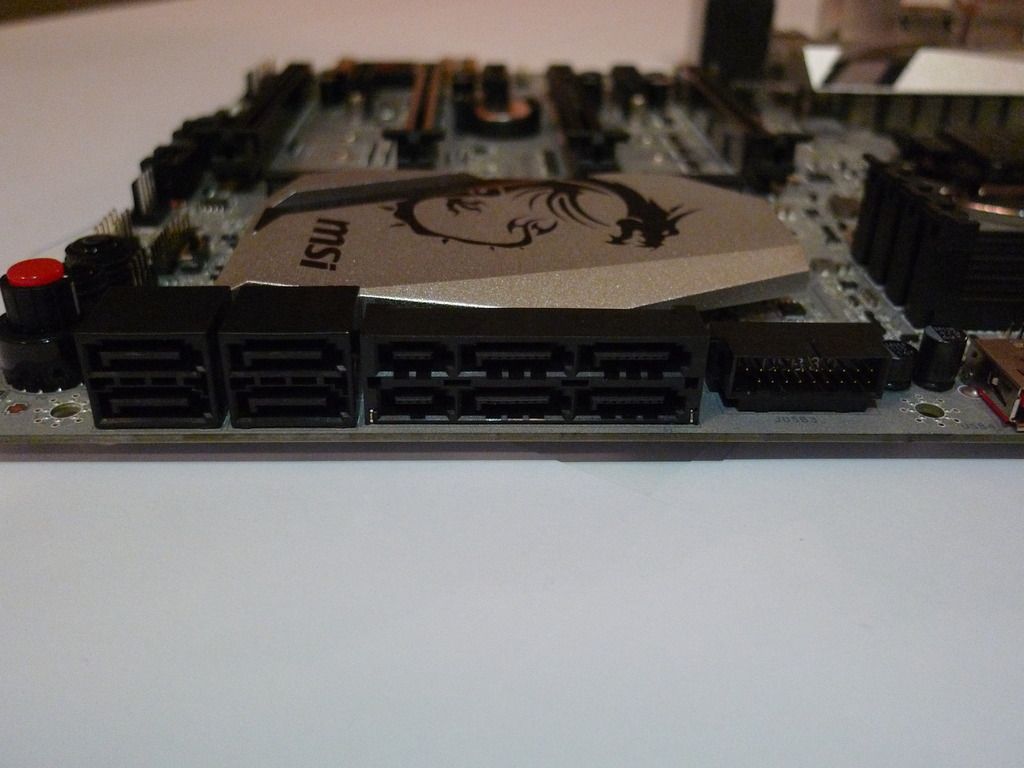 The Z170A XPOWER has numerous on-board buttons and switches to control various functions.
On the left is the Debug LED which will also display the CPU temperature once you've booted into windows.
Next is the MSI CeaseFire switch which allows you to disable one or more of the PCI-E x16 slots without the need of removing the cards using just a flick of the switch. While overclocking, switching from Quad SLI to Triple SLI was never easier.
The Hotkey switch allows you to use the keyboard to adjust BCLK, CPU ratio, power On/Off, update and reset your computer etc.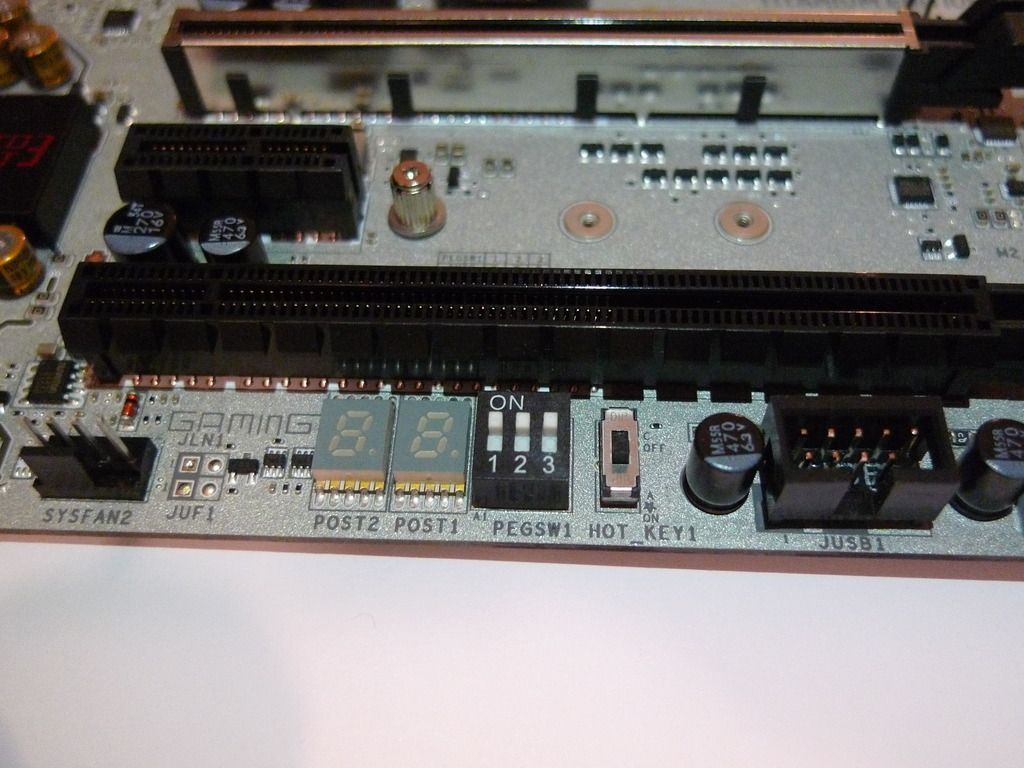 Here we have a Dual BIOS switch, Power and Reset switches and a Game Boost button.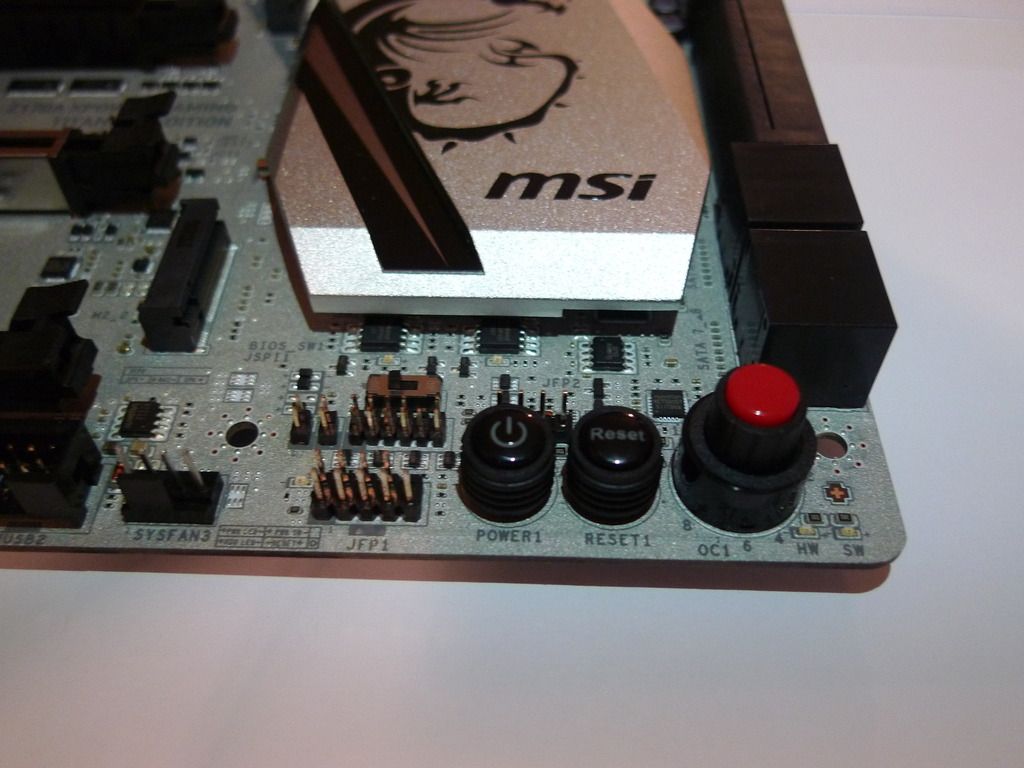 The Game Boost button has eight different settings and goes all the way to 11
https://www.youtube.com/watch?feature=player_embedded&v=KOO5S4vxi0o
Settings
0----Disabled
1----4.30 GHz 100 x 43
2----4.40 GHz 100 x 44
4----4.59 GHz 102 x 45
6---- 4.69 GHz 102 x 46
8----4.80 GHz 100 x 48
10---4.90 GHz 100 x 49
11---5.00 GHz 100 x 50
These voltage checkpoints are used to measure the current system voltages. A multimeter will be required to check voltages.
1. CPU
2. GPU
3. DDR
4. VCCSA
5. VCCIO
6. PCH
7. GND
8. GND
9. GND
To the left is the OC Dashboard port and to the right the BIOS Flashback button, this will enable you to update the BIOS with only the power supply (no CPU needed) just save the BIOS file to a USB drive and plug it in to the vertical BIOS Flashback port on the rear I/O panel and press this button.
The OC dashboard is an overclockers' swiss army knife, it attaches to the motherboard via a cable and allows you to power on and reset your system. The + and – buttons allows you to adjust your Base Clock and CPU ratio in real time, even during benchmarking and the complete discharge button completely wipes your motherboard from all settings, where the CLR CMOS still leaves some settings behind.
The Slow Mode helps to defeat booting issues when overclocking at extremely high CPU frequencies. Flicking the switch will temporary decrease CPU ratio below stock settings, creating stability to successfully boot to Windows.
The FASTB1 button allows you to go straight to the system BIOS upon reboot without having to press the DEL key.
BIOS
The MSI UEFI BIOS interface is easy to use, it features both Simple and Advanced mode depending on your knowledge of overclocking.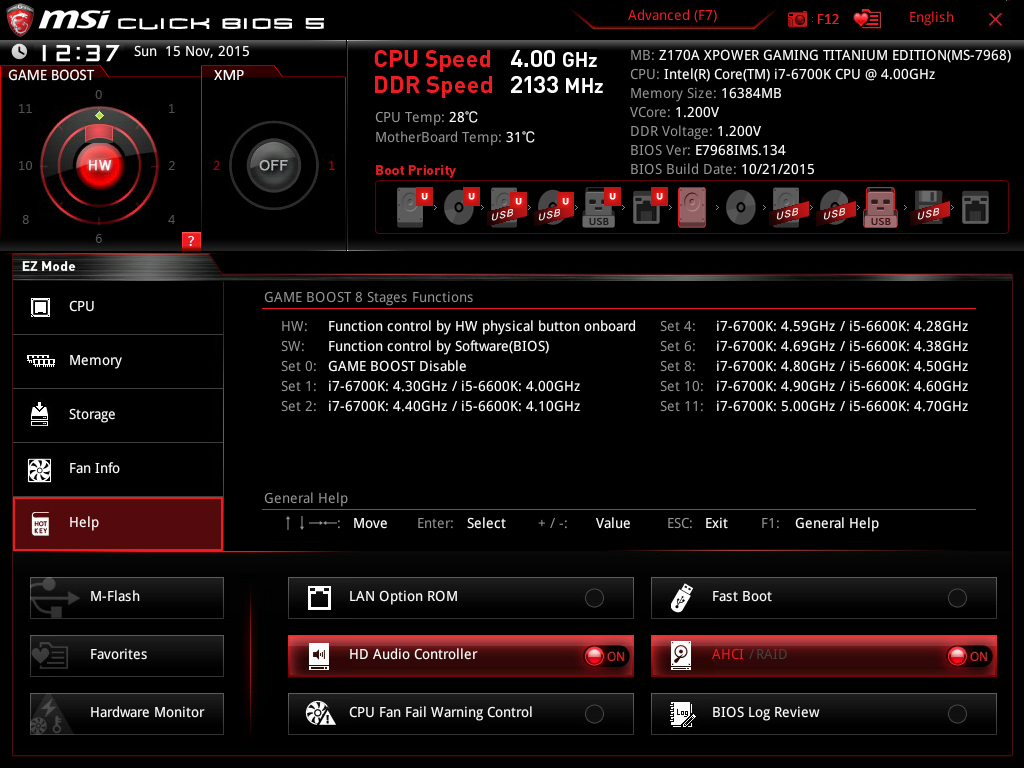 In the Advanced mode it has an Extreme OC Setup mode for LN2 use and has several advanced tuning settings to get the best out of the board.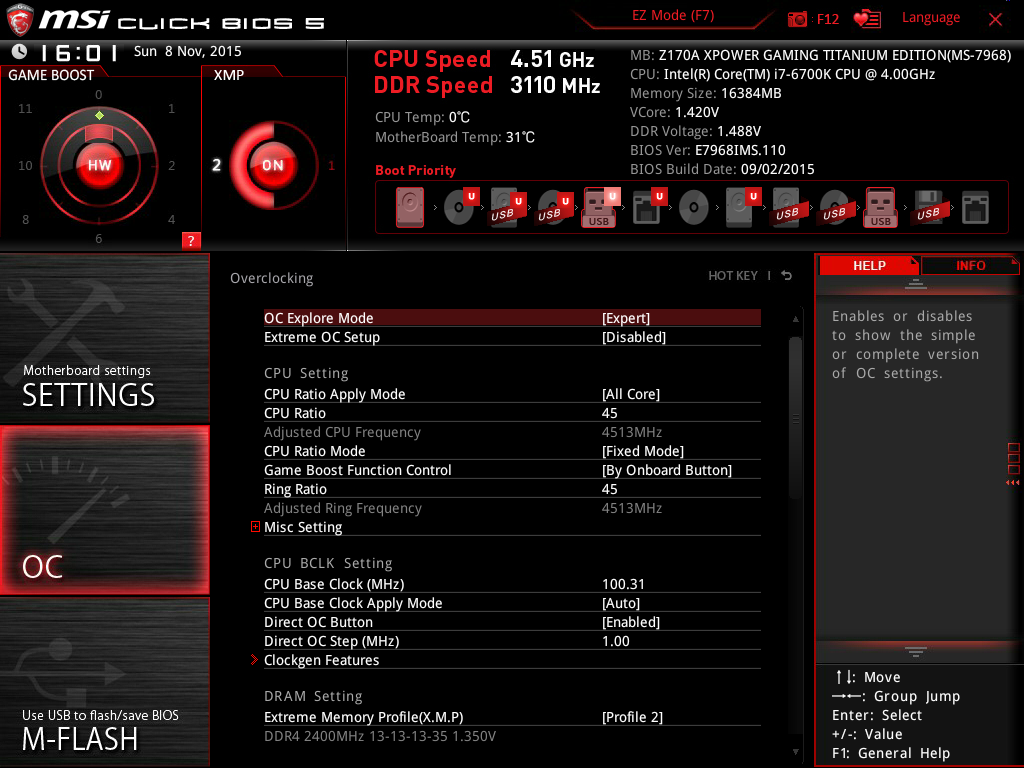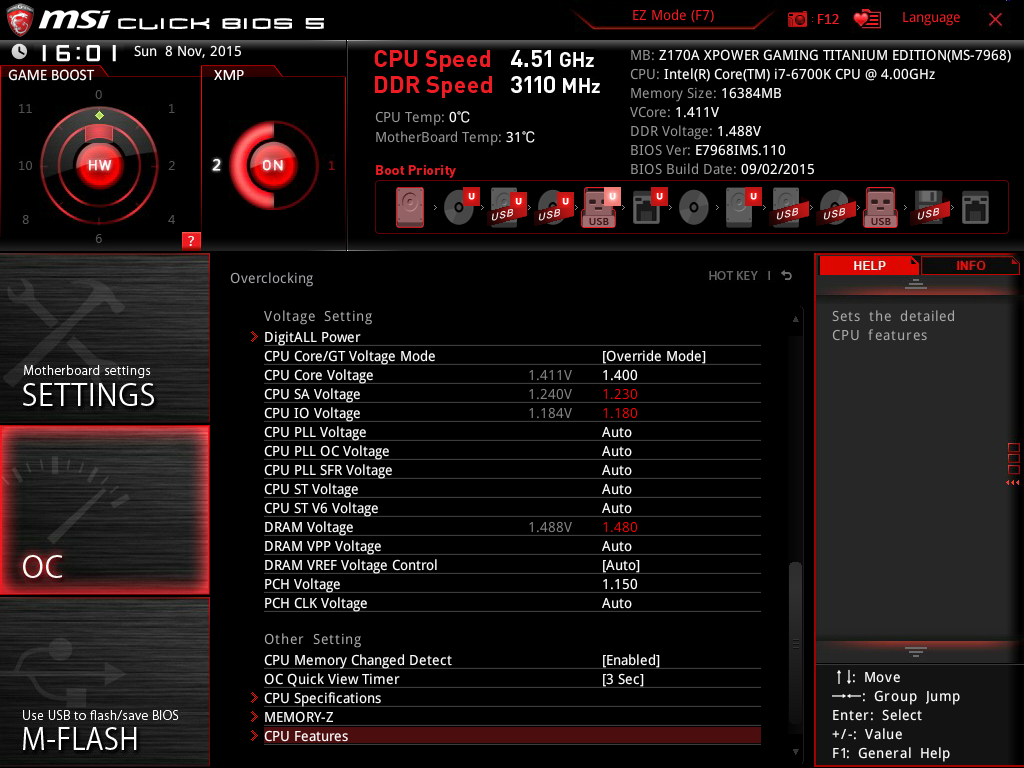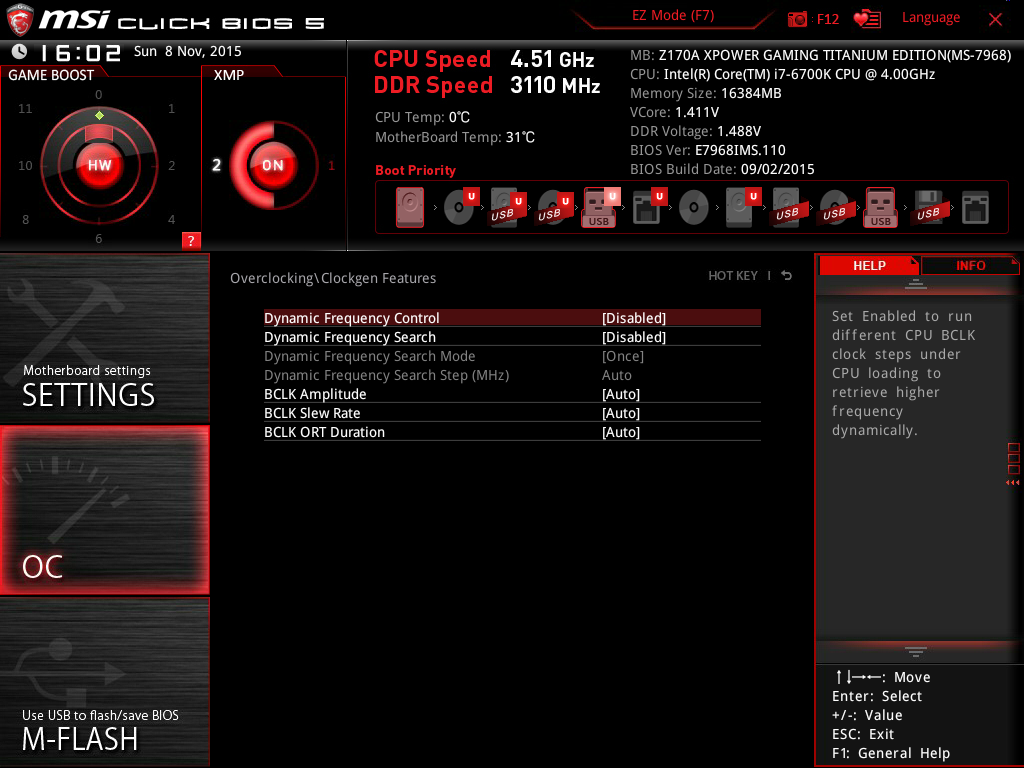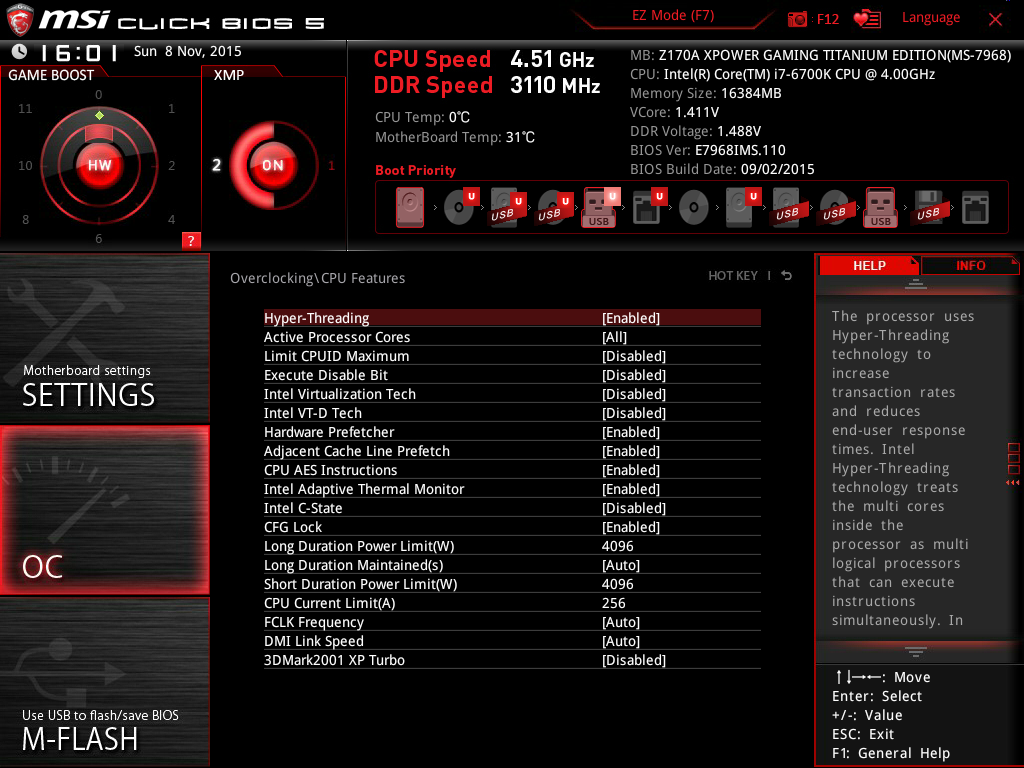 On the Overclocking page, MSI included a setting called Load Memory Presets, here you can select one of sixteen different memory overclocking parameters that include voltage and timing.
Hynix 4 x 4GB 2666 CL13 1T 1.45v memory timings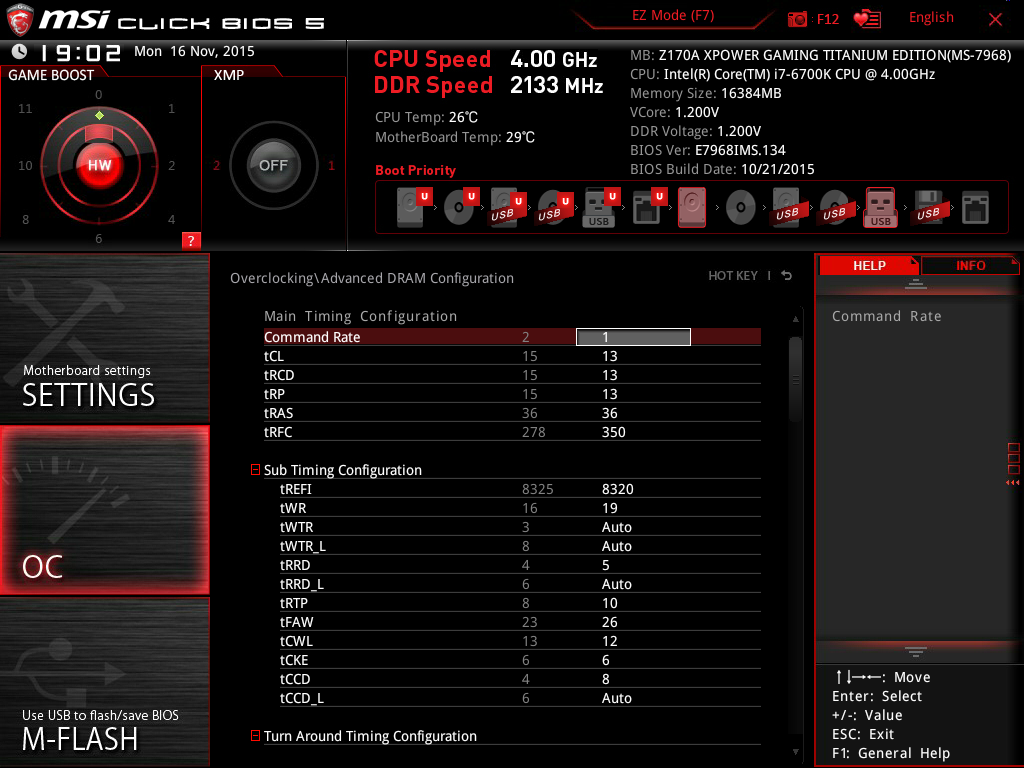 There is also a Memory Try It ! setting that gives you a choice of either Micron, Hynix or Samsung.
Select one of these and you'll have a further option of different presets to choose from as shown below.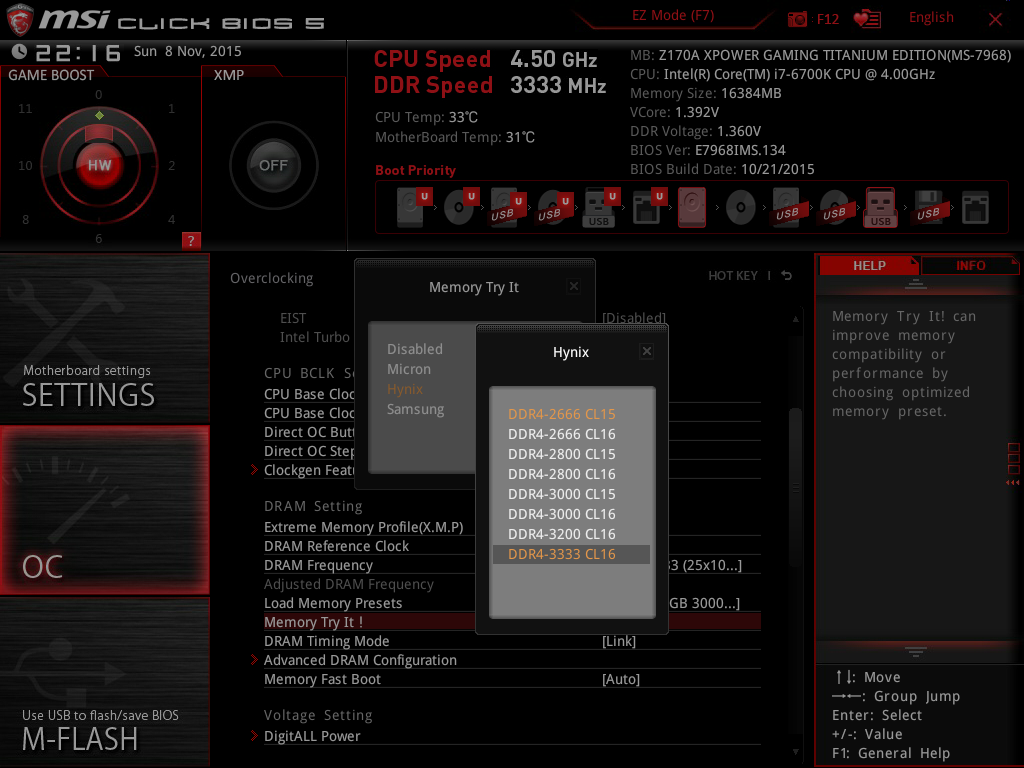 Test setup
Motherboard: MSI Z170A XPOWER Gaming Titanium Edition
Processor: Intel Core i7 6700K
Memory: Kingston Hyper X Predator 4 x 4GB HX426C13PB2K4/16 DDR4
Cooling: Prolimatech Megahalems CPU cooler and Arctic F12 fan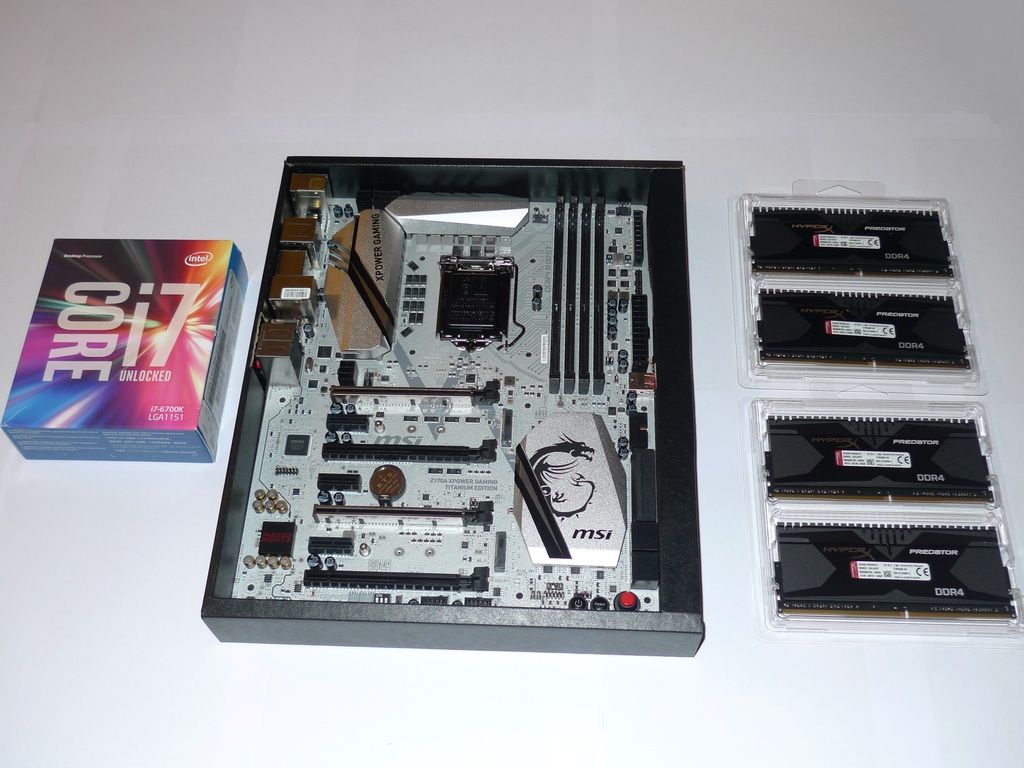 Default settings
When booting the Intel 6700K processor at default settings it would run at 4000 Mhz, Base clock of 100 MHz and the memory at 2133 MHz CL15 15 15 356 2T
Here are some results at those speeds
Cinebench R11.5
Score 9.82 pts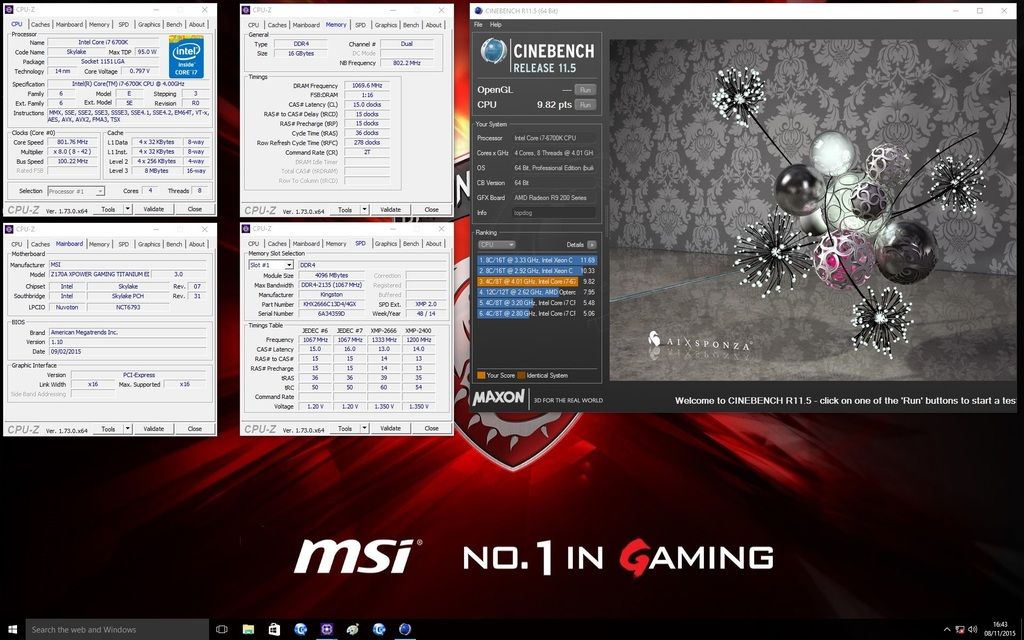 Cinebench R15
Score 892cb
Hwbot Prime
6018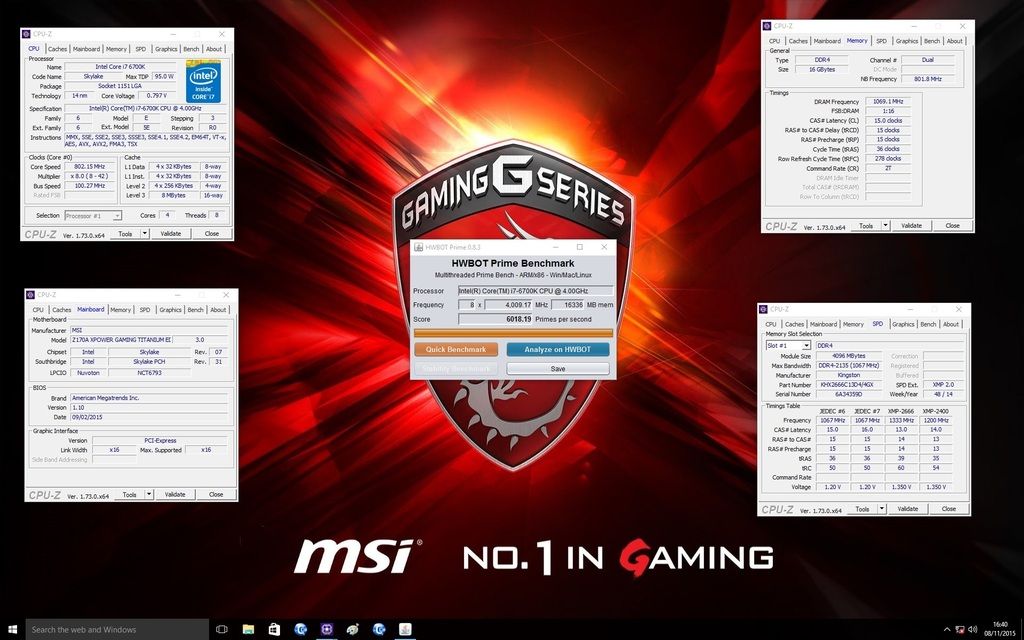 AIDA 64 Cache and Memory Benchmark
Firestrike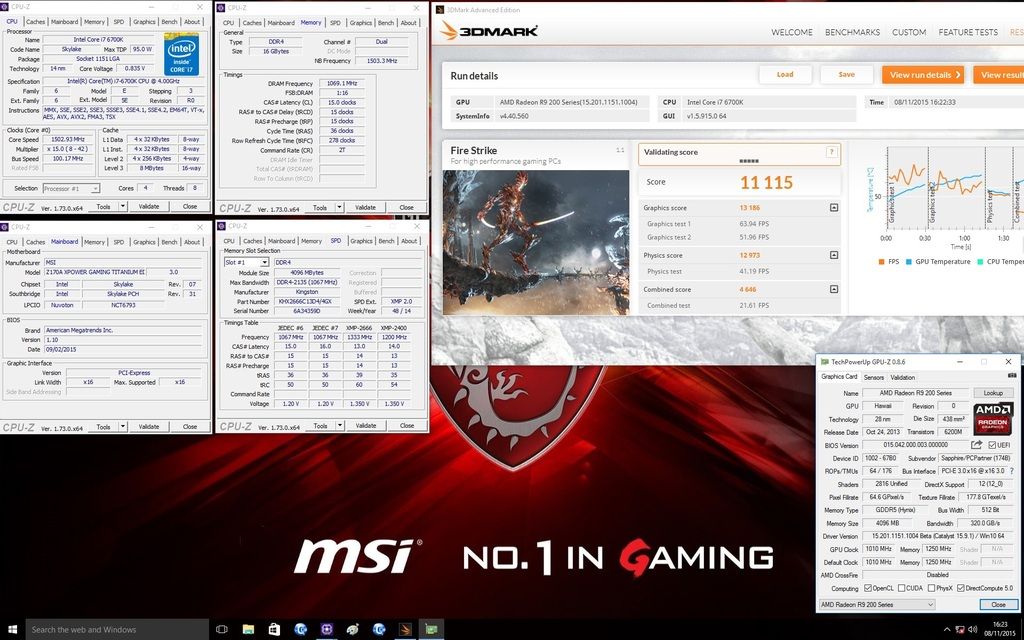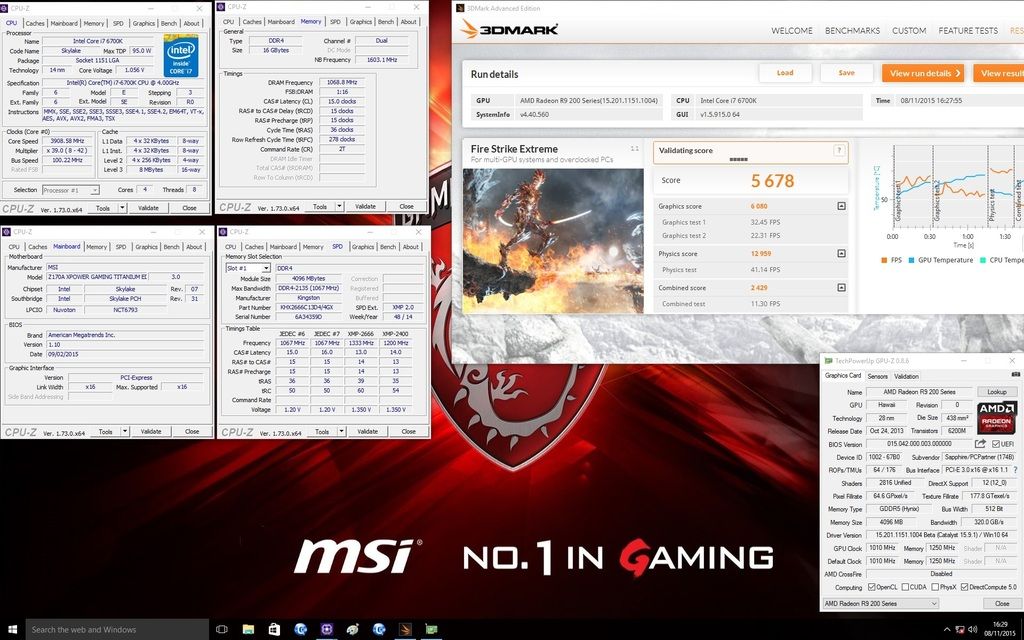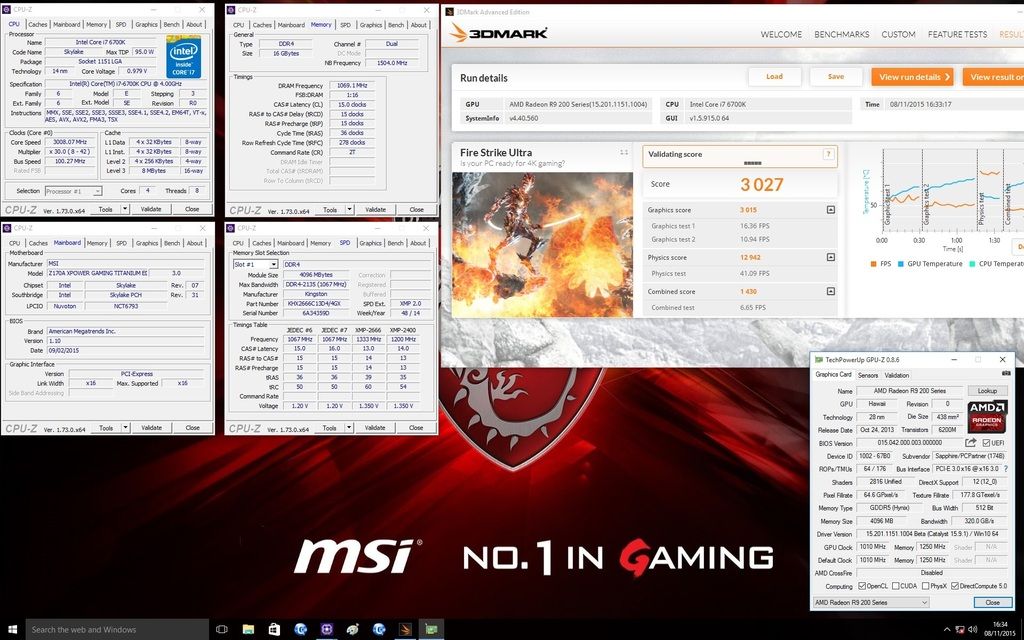 3DMark 11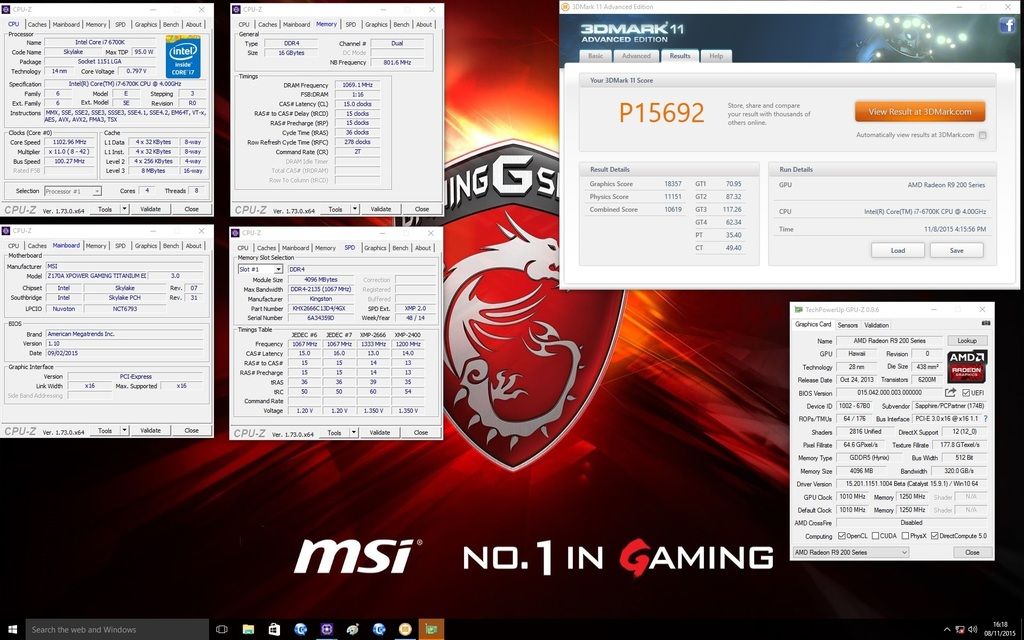 GAME BOOST Button
GAME BOOST provides an easy way to overclock the CPU. You could dial the GAME BOOST Button on the motherboard or adjust the GAME BOOST button in BIOS to choose between 7 overclocking settings.
With the Game Boost button set to 6 here are the results
Cinebench R11.5
Score 11.44 pts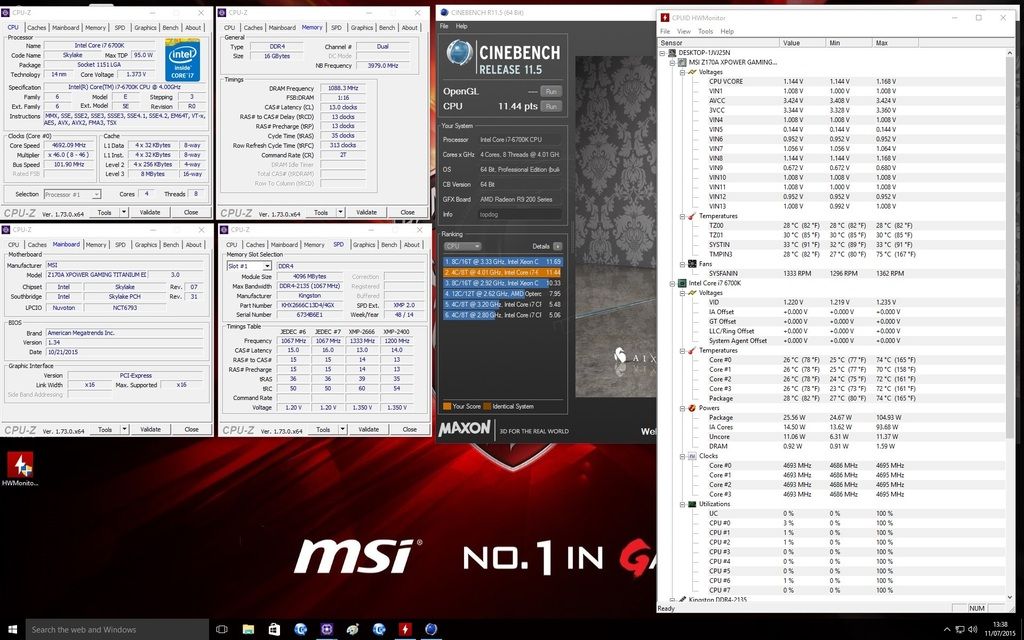 Cinebench R15
Score 1021cb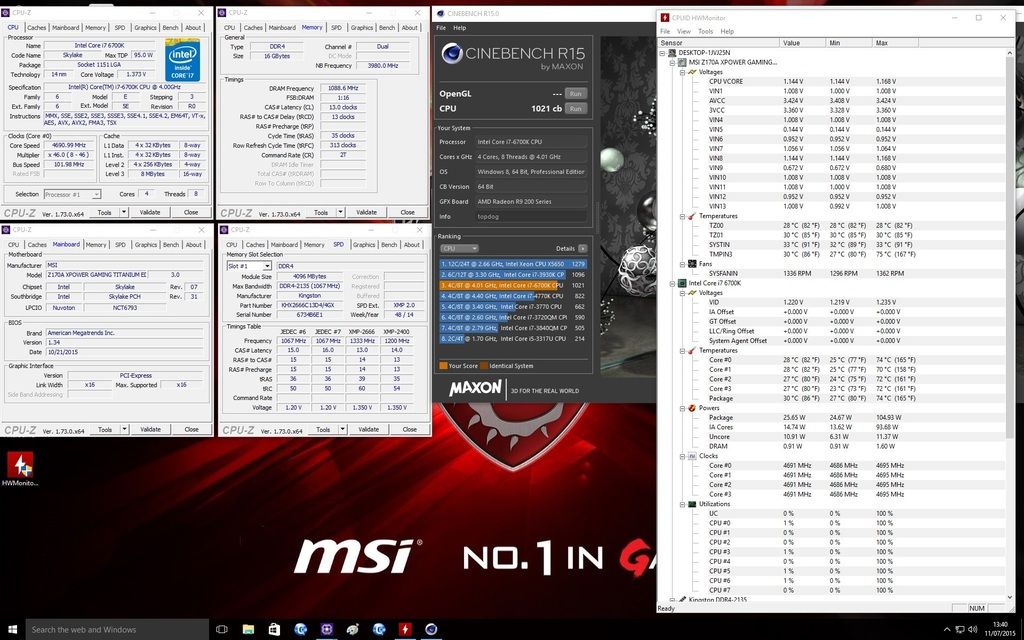 Hwbot Prime
6481
AIDA 64 Cache and Memory Benchmark
Intel XTU Benchmark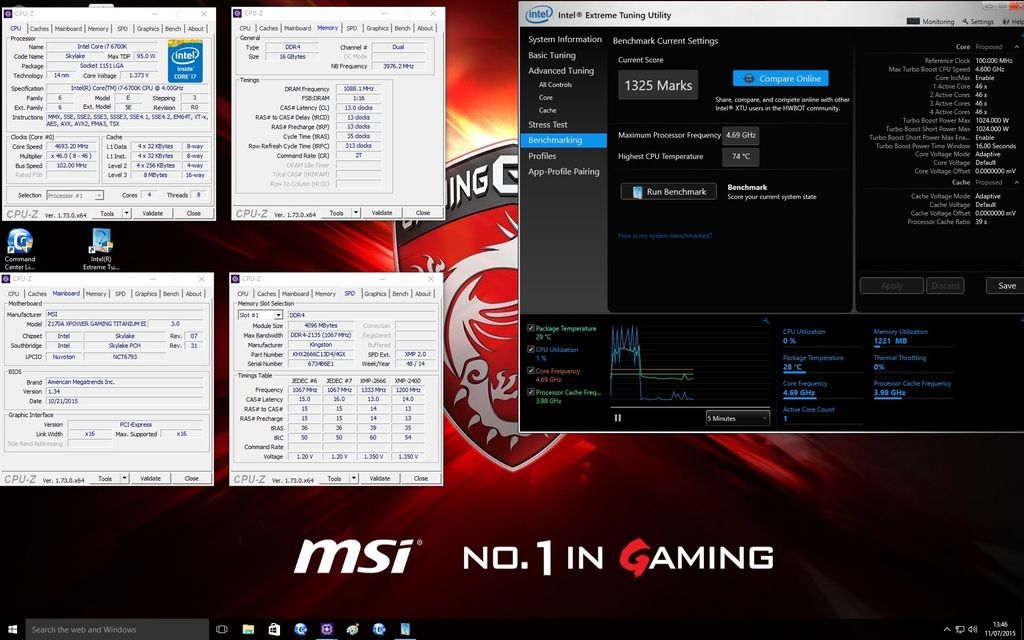 Firestrike with the GPU overclocked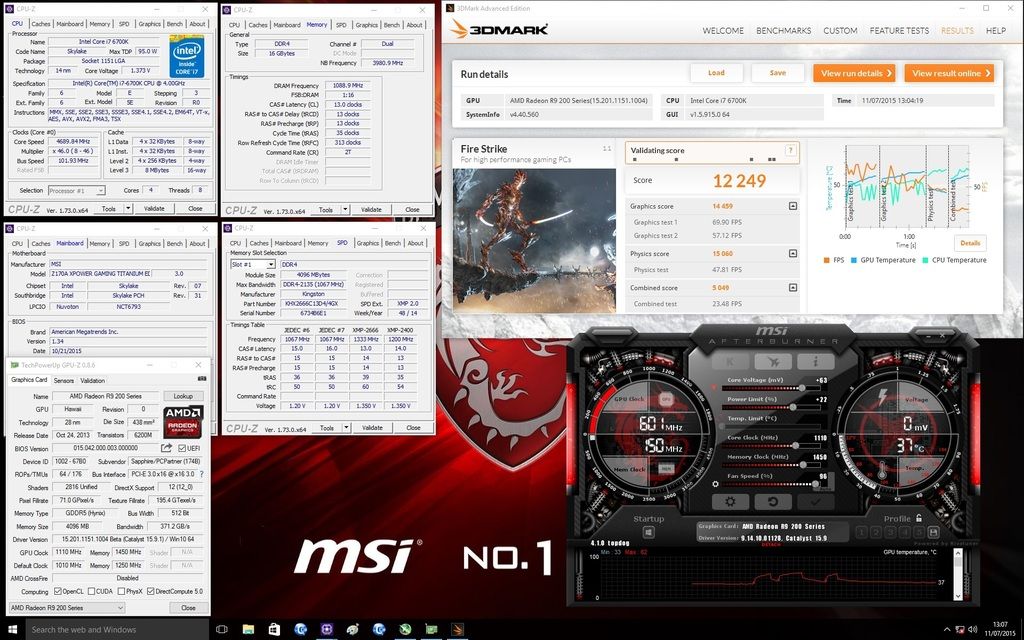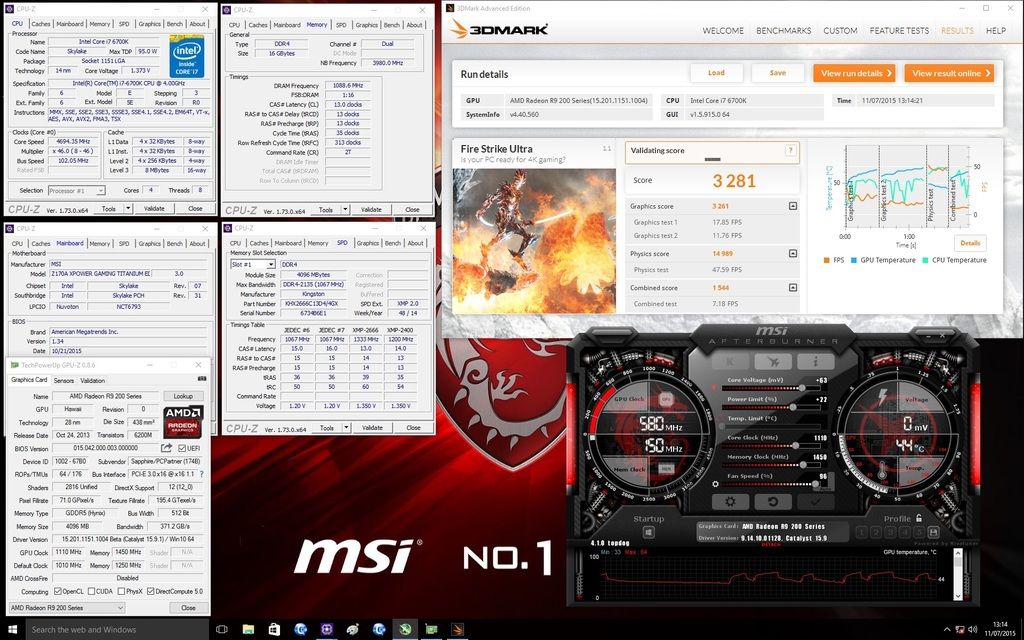 3DMark11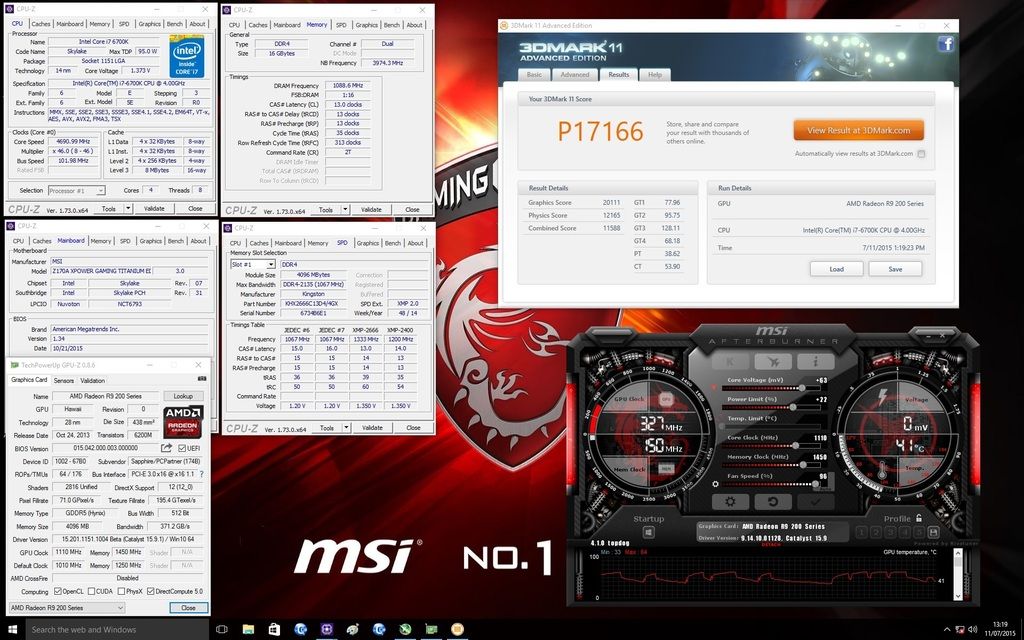 Memory Try It !
Memory Try It! is MSI's unique feature to overclock memory. MSI provides several profiles for Micro/Hynix/Samsun-chip memory kits. Just choose between the memory frequency and CL value to make your memory kits perform better.
Let's try the fastest one here
The main timing configuration for this preset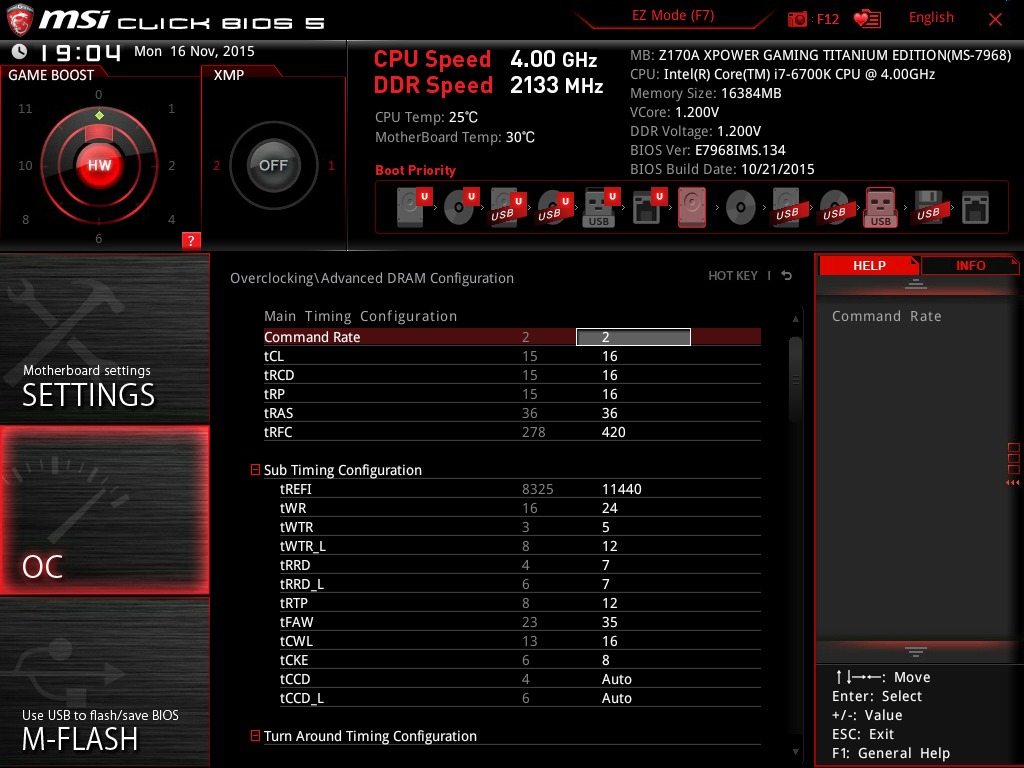 In windows we can see everything is as expected, as the Game Boost button was set at 6 the Base clock setting is 102 so the DRAM frequency is overclocked further to 3400 mhz.
We see a massive improvement in scores.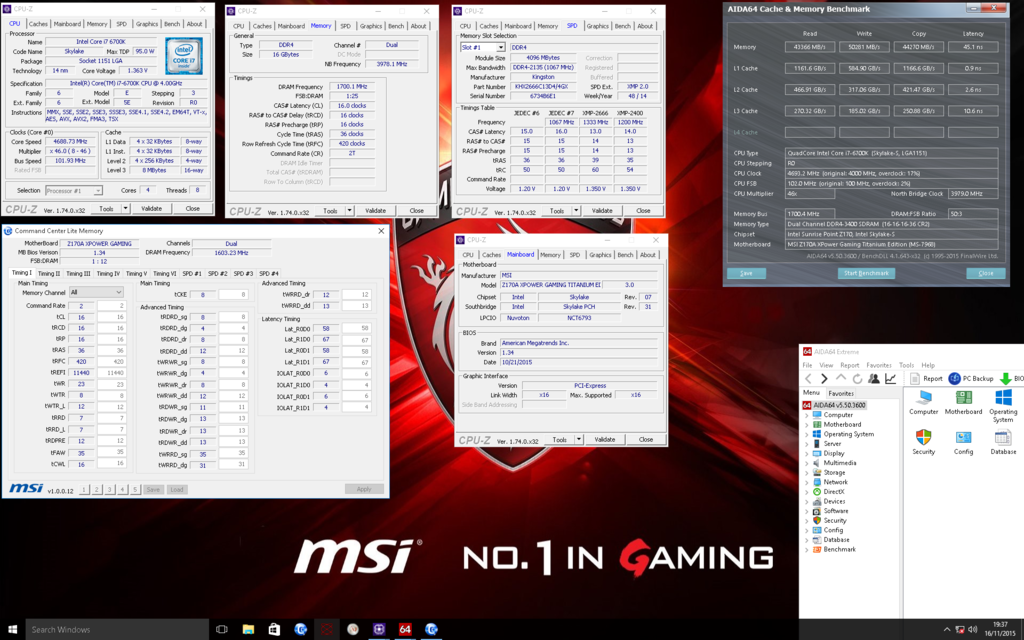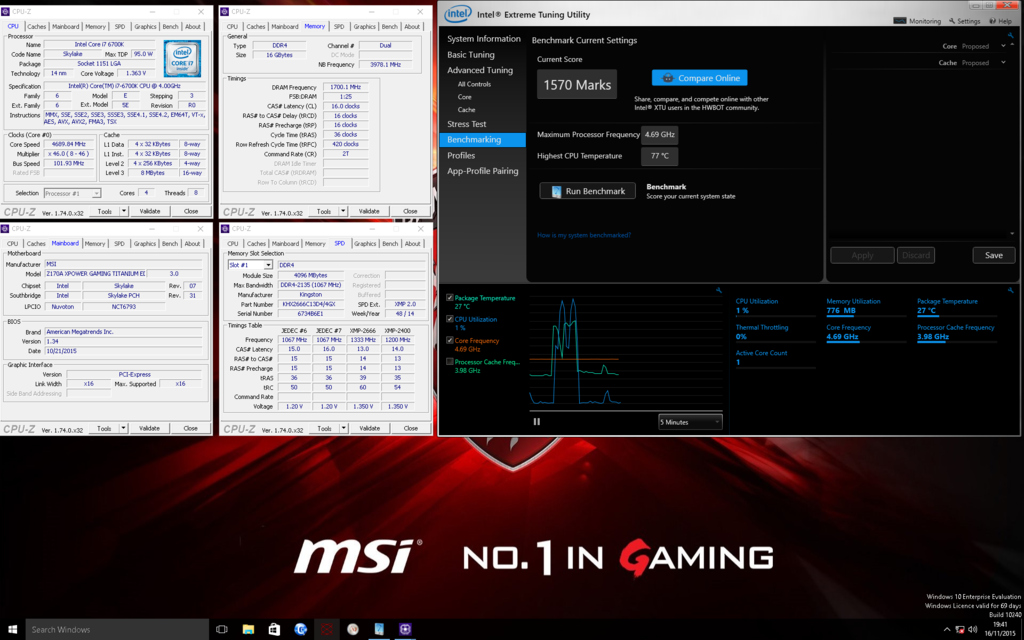 Manual Overclocking
Although the MSI Z170A XPOWER has some great features to overclock the processor and memory, some still prefer to manually overclock their system to the limit.
Using the Prolimatech air cooler, the system could be pushed even further with the processor at 5000 Mhz, but to run the memory at a command rate of 1T and with tight 2nd and 3rd timings the frequency had to be lowered to 3100 Mhz with these memory modules.
XTU had to be run at just over 4800 Mhz as temperatures got too high.
Cinebench R11.5
Score 12.30 pts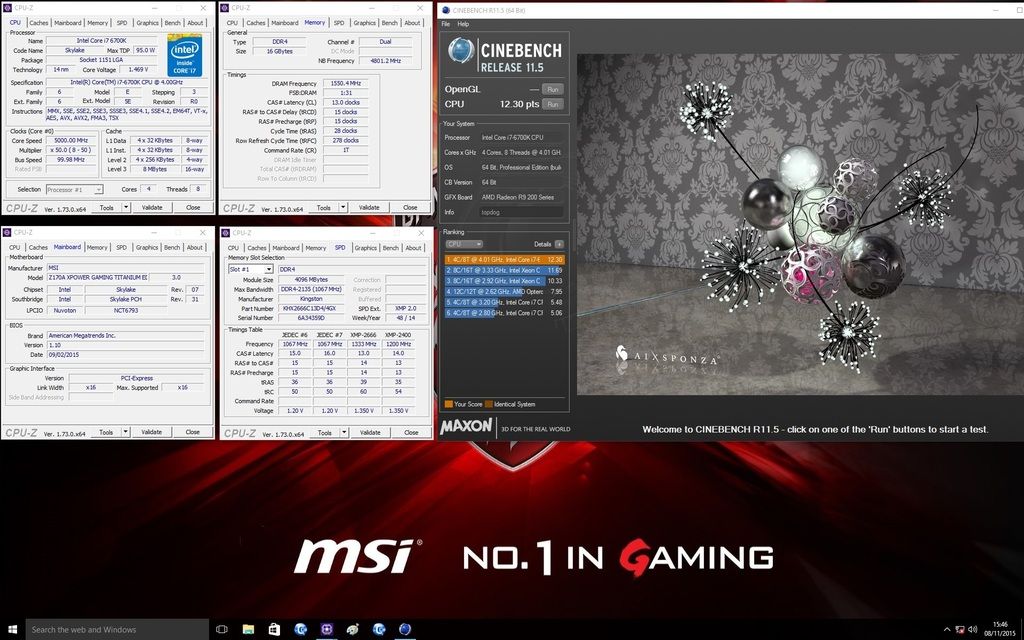 Cinebench R15
Score 1124cb
Hwbot prime
Score 6754
XTU
Score 1664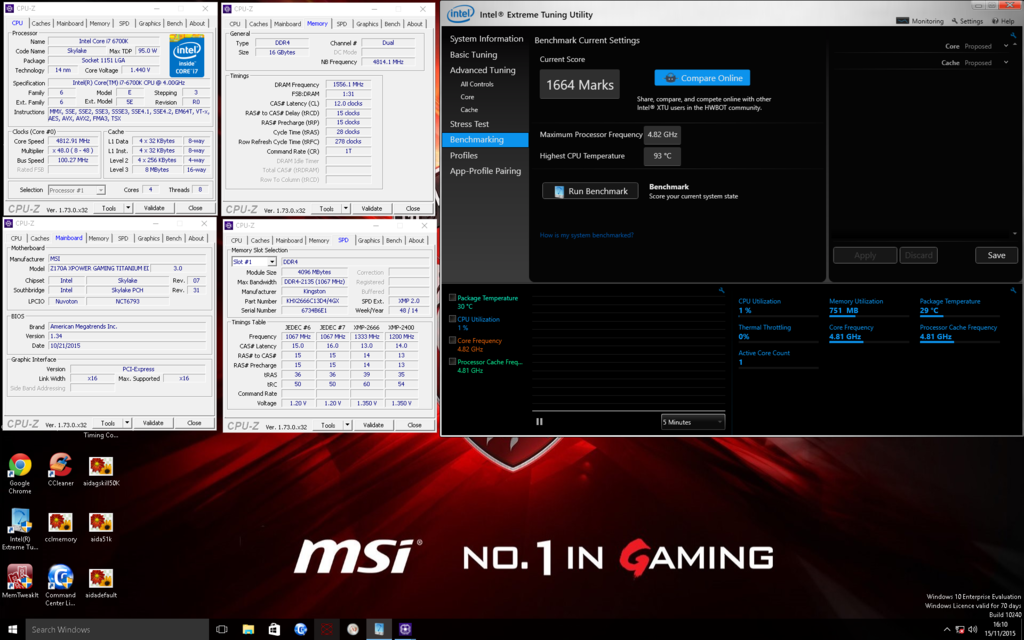 The MSI Z170A XPOWER Gaming Titanium Edition is one of the most advanced motherboard I have ever tested.
The BIOS is easy to use and I was impressed with the number of overclocking features and how incredibly stable this board was.
The unique silver pcb and black trim is aesthetically pleasing and would look great in any gaming system.
Since it first launched there has been no less than five BIOS revisions so you can be assured that MSI's R & D team are not resting on their laurels but are still busy improving this motherboard.
A board like this doesn't come cheap, it's not about bang for buck the Z170A XPOWER is all about going for and breaking extreme overclocking records but with features like Game Boost and the memory presets in the BIOS it can appeal to novice overclockers and gamers as well.